There is boundless public data that can be accessed and consumed with the use of an API. APIs are defined as the bridge between the user and the data that they need to access.
To make it simple, when you type an HTTPS request in the URL bar of your web browser and press enter, the request immediately formats into the data you want and it will be thus displayed in your browser. And this process of data is performed by the APIs.
Nevertheless, Mirrorfly Voice API is a one-stop platform for dialing, receiving, and monitoring calls across the globe. The Voice API delivers an easy-to-implement APIs that can be embedded directly into your app using VoIP, PSTN, and SIP calling, or the browser in your own preferred programming language.
To learn everything you need to know about voice APIs on how it works, to how it costs, this blog will be the perfect guide to nurture with the details of must-have features and use-cases of Voice APIs.
What Is Meant By Voice API?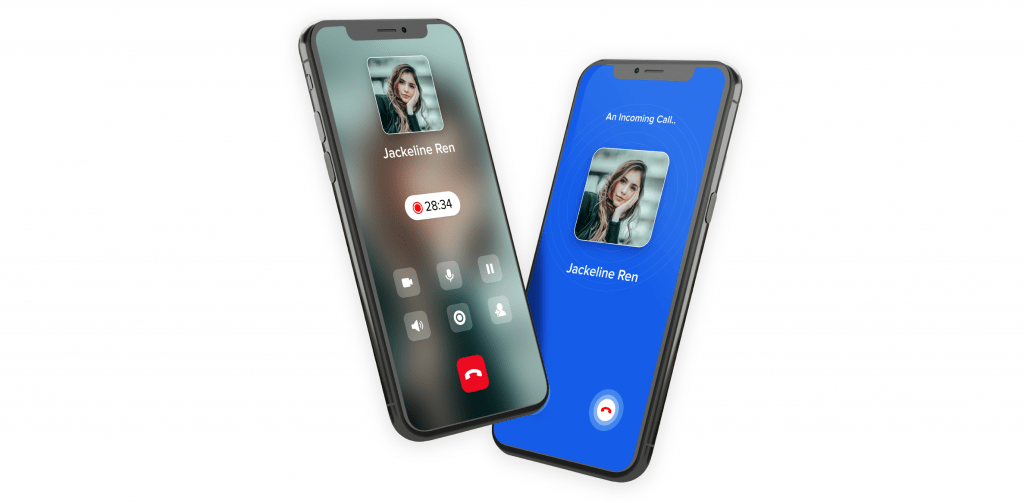 Now that you have understood the functionality of the Voice APIs, let's get into an in-depth step to discuss the functionality of Voice APIs.
A voice API is used to dial and receives phone calls by connecting through internet-based applications to the PSTN (Public Switched Telephone Network).
The main benefit of a voice API for developers is that they won't need the telecoms expertise to build voice applications. The voice chat API will execute all the telephonic functions, so that the developers can concentrate on cultivating an engaging customer experience. Voice call APIs are also highly configurable, scalable easily, consumable, and extremely cost effective as well.
In short, a voice call API allows the application to programmatically dial, receive and manage the calls without interfacing directly to the PSTN. Voice chat API for developers can also be used to route voice calls with global connections through phones, mobile applications, browsers, and SIP domains.
Common Use Cases For Voice API
To name a few, programmable Voice APIs provide a diverse range of use-cases, comprising cloud-based IVRs, call tracking solutions, Artificial Intelligence, contact center and UCaaS platforms, omni-channel routing, alerts and voice notifications.
A programmable voice call API can leverage any workforce application with embedded collaboration or communication requirements. Consequently, in recent years there's been an outburst in the use-cases for embeddable communication APIs.
Key Benefits Of Voice APIs
"One of the key benefits of voice APIs is that they are configurable and can enable businesses to gradually build upon themselves to serve the needs of their customers, instead of barring them into a single solution, " as per a recent article in Digitalist Magazine about the CPaaS Revolution.
By using APIs businesses can also prolong the value of their prevailing solutions to add voice or messaging competences to the legacy software.
APIs are easily consumable too and it denotes that businesses can make use of them to enhance their customer experience, while also reducing their operational costs using APIs.
To better meet the needs of today's businesses, customers and end-users, companies of all sizes can rely on the omni-channel communications capabilities and also embed security into their applications.
55% of enterprises claim that API integration is crucial to their business strategy and IDC foresees that 30 percent of businesses will embed their communications through APIs by the end of 2021, according to Cloud Elements API integration report.
What Are The Vital Features Of A Voice API?
Voice APIs varies from different genres like the basic APIs to the incredibly feature-rich APIs. The most basic of the call APIs is that the flow starts with the ability to claim threads of text and collect DTMF keyboard input. Voice call APIs can be mostly used to create record calls, outbound calls and manage conferences.
However, the Mirrorfly voice API contains an array of features that is inherited by developers to establish a more customized and responsive engagements for customers.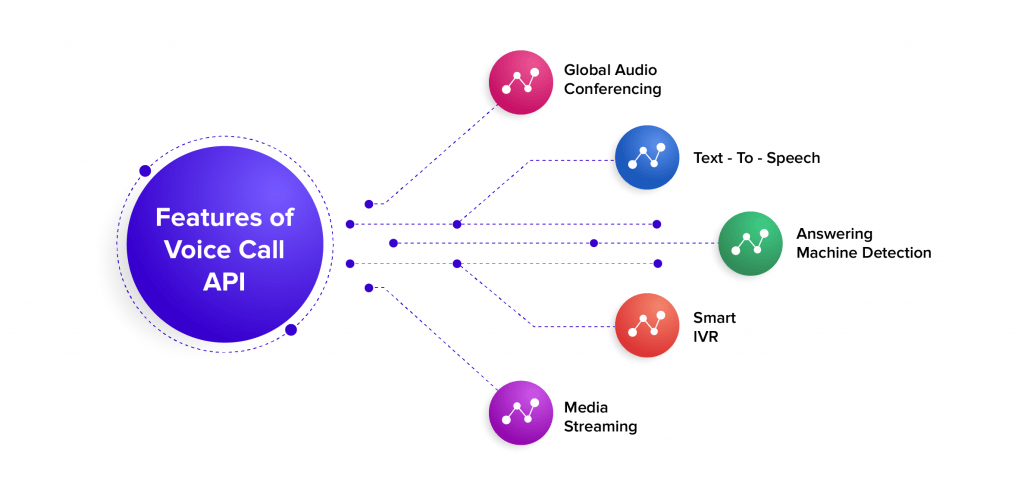 1. Audio Conferencing
Audio conferencing can be embedded using the voice API into your applications. To connect people and teams globally, the API enables your application, with a highly configurable action.
For instance, you can identify the hosts that control the global conference performance, when participants join and leave play sounds too, define a length of time after that the conference automatically ends, hold and uphold participants, mute or unmute, and much more.
2. Media Streaming
To deliver calls while simultaneously, media streaming will enable your application by duplicating call media to various recipients. The Mirrorfly voice API takes the call media and forks it, the moment the call is established. Call media can be delivered, analysed, duplicated and returned in real-time. And the second recipient will never occupy the call stream, thus you don't have to worry about tainted quality or dropped networks. You can build next-gen features into your application using media streaming, like conversational AI, sentiment analysis, call transcriptions, fraud detection and voice biometrics.
3. Text-To-Speech
TTS or Text-to-speech is a form of speech combination that alters text into speech output. Firstly, it's a feature of accessibility for customers with infirmities that marks automated customer service systems operational. Yet, customers who don't need text-to-speech for accessibility often prefer text-to-speech options so that it's easier to interact with your IVR on the go. Many programmable voice APIs incorporate text-to-speech technology for this reason and Voice chat app allows you to speak dynamic text in several languages with accents.
4. Smart IVR
To build a multi-level IVR to intelligently route your call flows, a programmable voice API is used. Smart IVR capabilities help the users to handle simple customer service tasks without the aid of a human representative. It has enough menu options that ake is interactive and enables you to build a customer-first IVR that controls:
Omni-channel experiences
Text-to-speech capabilities
AI technologies
Call recording
Intelligent call routing
Therefore, the Mirrorfly voice API is preferably appropriate to construct the smart IVR systems.
5. AMD Or Answering Machine Detection
AMD lets the users to see whether a call has been responded by a machine or a human, so that it tailors the user experience consequently.
Following up on potential leads, collecting information via voice surveys or providing customers with critical updates are the outbound calling use-cases where Answering Machine Detection is particularly important.
When the outbound call is answered by a machine, the user can avoid connecting an agent unnecessarily and when the greeting ends, the user can leave a broad message rather than annoying customers with half-baked messages left in the voicemail.
What Makes A Good Voice API?
A good API is one that's easy to build with irrespective of its importance in programmable voice API that offers flexibility and control to customize user experience as per their specific needs.
1. SDKs And Robust Documentation
SDKs or (Software Development Kits) are a set of tools for software development in one package used for integration. It is designed for specific platforms or programming languages to be used and create building applications that has a far more efficient process, demanding less development resources.
A good voice API provider must provide the SDKs in specific programming languages such as the Python, NET, Node, Ruby, and PHP. With these API packages, you can easily integrate the voice API that results in a quicker market process required for your application.
The same applies for developer documentation as the voice API provider must create a robust documentation to protect a variety of use cases like the tutorials, quickstart guides, and product overviews to make sure developers can build voice app in the way they want quickly and easily.
2. Developer Support
No matter what, your voice API provider must offer a solid technical support i.e. ideally 24/7 with no extra cost. Since most of the integrations are complicated, very less are simple, it's incredibly important to have a technical assistance. However, its, impossible to predict when you're going to need that technical support to move the project forward.
How Scalable Is CONTUS MirrorFly Voice API?
The CONTUS MirrorFly voice API infrastructure scales on-demand that enables customers to establish voice connectivity promptly with virtually unlimited capacity.
With MirrorFly, you can build and scale the configurable voice applications in minutes with any type of voice app like the unified communication software, call tracking and call recording software, contact center apps, and anything that involves voice connectivity.
Conclusion
CONTUS MirrorFly is a company of tech-savvy developers who built a voice API that puts the developer experience first and is solely built for global connections for enterprise-grade customers.
MirrorFly's API consists of different APIs that allows you to perform activities like translate text with double tap, provide VoIP telecom services, and finally to add voice and video call functionalities to your website or mobile app. The APIs delivers good documentation that help you to kickstart your voice API project instantly.
In addition to that, MirrorFly's APIs and SDKs help you to add features like chat, voice, and video, to your web applications and mobile devices promptly to improve customer interaction and service.
The versatility of MirrorFly includes reliability and stability, adds mobile screen sharing, and enhances recording functionality.
Sign up for Free Trial Now!