So, you're frustrated with the inability of your video conferencing platform to do the ideal things you actually want to.
Or
Your participants want to join your conferencing right from mobile devices on-the-go, from a personal computer or meeting room from any part of the world.
And the list goes beyond…!
Even though your investment in third-party video conferencing apps is high, but your video conferencing software can't do all the things that you can probably accommodate for every-day work scenario. No matter whatever business you are dealing with, every organization wants to build connected relationships irrespective of distance.
This is where you feel your total investment on video conferencing is not matching your conferencing needs. Typically you play "hide and seek" with your video conferencing to match the investment and performance of the software. Let us grasp some of the pain points that most of the organizations and enterprises encounter with effortless video conferencing platforms.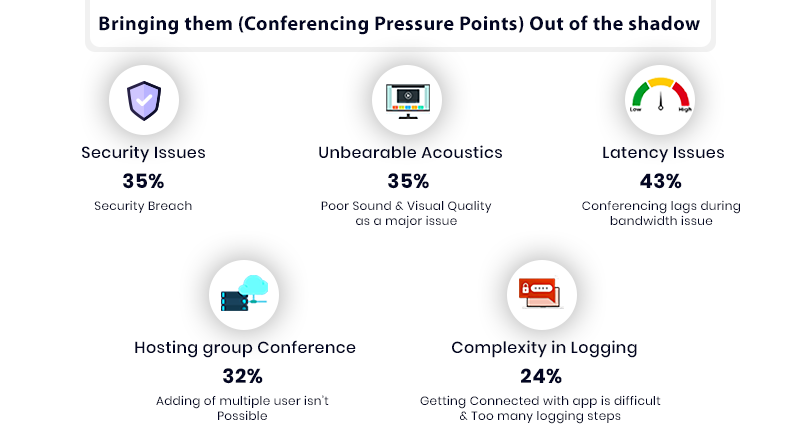 1. Unbearable Acoustics
Video conferencing, Call conferencing or video conferencing solution – whatever you want to term it. Conferencing is all about seeing it and believing it, but due to technological updates (WebRTC), most of the video conferencing API & SDK providers fail to withstand the value. It is found that IT services have earned revenue up to 4,300 million U.S dollars with audio conferencing technology.
2. Complexity in the Login Process
Dial-in conference call participant is one of the most common techniques most of the providers offer. With a mobile number, following passcode to connect is a huge time loss and it doesn't guarantee that your expected participants will join. The process delays the conference calls up to 9 minutes which isn't an interesting factor to consider when it comes to the real-time collaboration of any business.
3. Security Issues
The purpose of conference calls is to discuss, collaborate confidential subjects at anytime which reduces the cost and significantly the time. Naturally, the host sends invite mails to the participant with the bridge number and passcode where the user can forward the mail to anyone, then she/he can eavesdrop the entire conversation when it comes to audio conferencing. The same applies to video conferencing as well.
4. Hosting Group Conferences
When it comes to project discussion, conference calls are the main resource for enterprises and other professionals to collaborate. Most of the video conferencing software doesn't connect more than 5 participants in a discussion or meeting which drastically reduces the productivity of the business.
Now, it's Time for the Action
The purpose of your communication differs based on the principle of business. Every organization, business and enterprises are expanding across the world and maintaining an effective collaboration with the employees or professionals is the ideal deal for productivity. A self-hosted or cloud-hosted video conferencing solution is the right strategy to streamline every collaboration taking place in Education, Healthcare, Sales, Enterprise purpose, Media & Entertainment and much more.
An exemplary video conferencing solution must possess great communication functionalities that adapt to any enterprise or industry.
A Note-worthy Video Conferencing Solution Must Possess: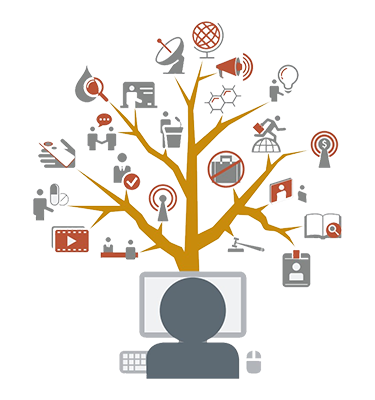 Withstand a huge user base when it comes to scalability,

Performance-oriented during concurrent usage,

Low latency enabled when it comes to the quality of audio and video,

Rich in functionalities when it comes to video conferencing experience,

100% Customizable when it comes to usage of conferencing for any industry,

Complete API & SDK Provider with source integration when it comes to faster-time-to-market,

Multiple availabilities of the video conferencing platform,

Finally Cost-effective.
So, Where do can I expect such note-worthy video conferencing solution?
If you're in charge of choosing the best enterprise video conferencing solution for your business, either as a decision-maker or a CEO or a Manager, then you probably have to analyze a fully super-packed suite of MirrorFly as an entire picture for your video conferencing demands and cost-effective factors.
See what you can expect from an enterprise video conferencing solution?

Upfront, completely one-time payment for your entire video conferencing Solution.

Absolutely customizable for any feature and functionality irrespective of platforms.

Self-hosting to cloud-hosting, analytics is possible!

Adding of participants limit up to 2000(is case of large meetings).
Amazed right???
Probably you just have to scroll down further to analyze the type of industries that an enterprise solution offers where you can build a video conferencing platform based on your niche!
Discover Your Video Conferencing Needs Regardless of Industries
1.Healthcare
Reduce waiting time and assist more patients with conferencing

Assist to handle multiple Pieces of Medical Trainings

Allows to interact with a medical specialist at anytime
2. Education
Bringing subject experts and matters around the globe

Parent/student and teachers virtual meetings

Conferencing virtual classrooms
3. Human Resource Management
New hiring through conferencing

Virtual Interviews across the globe

Global HRs collaboration
4. Gas, Oil & Energy
Training sessions for global workers

Quality check in real-time increases productivity

Connecting remote workers with virtual meetings
Every business deserves a better collaboration tool to smooth-running of your communication right from the base to top management level. Video conferencing has the potential to transform your business communication, productivity and save a huge amount of travel cost.
Whatever the purpose of conferencing and industry, an enterprise-grade video conferencing SDK & API provider is the right you present to your business communication. Before partnering with the best enterprise solution provider, make sure the provider comes under these checklists.
Why Enterprise-grade Video Conferencing Solution?
Experience end-to-end customization of video conferencing platforms (Android, iOS & Web) up to any number of use cases.

Potential up to 2000 participants & 1000 viewers across the globe.

Designed with advanced technologies (WebRTC).
About The Author
Sharvin Mohan
This guy is a blogging freak. He craves to blend the finest words to deliver meaningful, informative content in the most engaging way. This dude loves to craft content on tech blogs with a thorough piece of information. When he's not writing, researching, or editing, you can catch him riding into unknown terrains and scribbling quotes.