Skype. WhatsApp. Facebook Messenger. WeChat. Slack.
Every known instant messaging app today comes pre-enabled with voice video calling.
Gone are the days of voice calling. Video is the new telephone call.
Video audio integrations tools are the machinery that makes instant messaging apps capable of communication using real time video chat API & SDK. They provide the technical infrastructure to set up interactive realtime video communication that can be scaled easily.
Be it a one-on-one video call or a multi-participant video seminar, video audio calling integrations make it happen.
Video/Audio integration tools are basically WebRTC tools. WebRTC stands for Web Real Time Communication. There are many voice video call integrations in the ready-go pack that can integrate into a website or a mobile app for communication. They are usually available in the market in the form of APIs or plug-and-play solutions that make it easy to embed video call into a website to deliver custom video chat API experiences.
So, before getting into its actual working principle, let's walk through the complete understanding of a Video Chat API & SDK for businesses.
What is Video Chat API/SDK?
Video chat API is a real time application program interface that provides access to both back-end as well as server infrastructure. It can be easily integrated into real-time chat within any existing application for mobile and websites. This API provides support to the video communication application that involves a huge number of user engagement.
On the contrary, SDK is the software development kits that are used to create a complete new application that can be easily added into any Android, iOS, or web application. Whether it could be a live chat on video games or an instant messaging option over the web browser, chat SDK provides space to everything.
How About Getting Started with Firebase to Build Video and Voice Chat Application?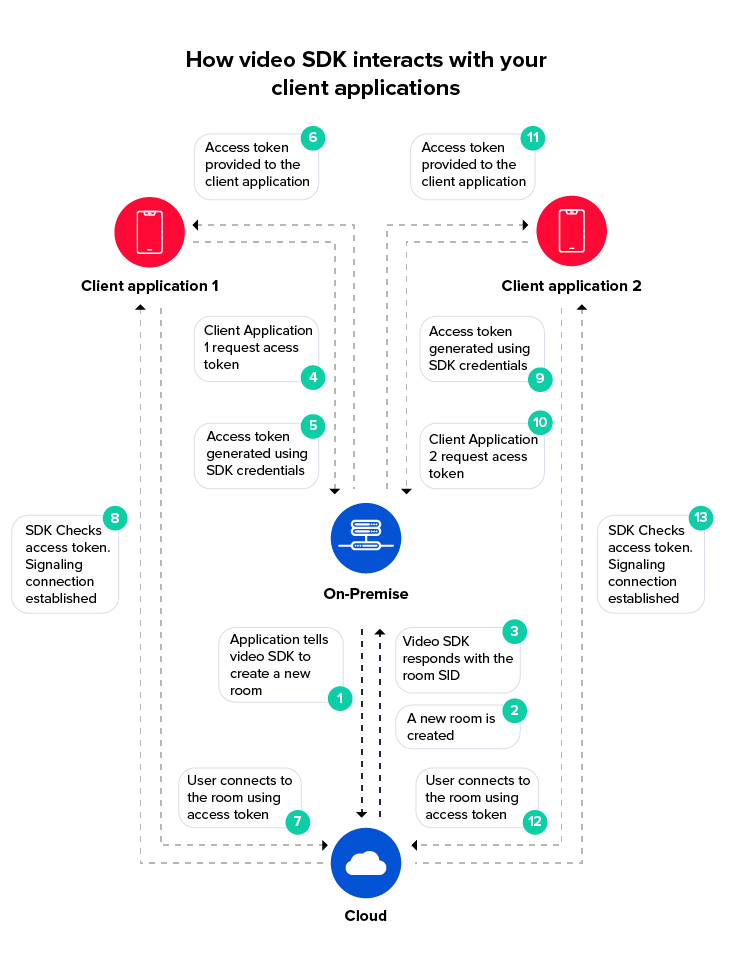 Since the above image shows a clear view concerning the interaction of these video call SDK for android or iOS with client application. Now, let's see how this video call integration process works further for android, iOS or web apps.
Firebase also stands a powerful API to build real time chat application that possesses video, voice call integration with built-in security and safety feature to safeguard the entire chat conversation taking place in the application. To utilize the work of a WebRTC signaling, Firebase plays as real-time cloud storage in making API calls to client's service that scales up to few numbers of users not exceeding 10. It requires instant payment for every usage of users across the platforms.
How to Integrate APIs into your Video Calling App (Android and iOS)
To integrate any iOS or android video conferencing API, the below given components are must
Credential to Video Call SDK Account – To use the SDK and its related services that need to be integrated into your existing apps, you must have credentials. Thus, it's better to have a check on credentials.
Server Application – Since it runs at your application server, it utilizes the third-party account credentials to give access to the video services.
Client Application – The client application can be executed over the mobile as well as on a web app. Moreover, it uses third-party SDKs to publish, capture, subscribe and execute the real time communication data.
Furthermore, Let's have a look at the steps needed to implement video call integration in android or web application,
1.Create a room:
First, the server Application informs the video call SDK to create a meeting room.
Once done, before creating a new room the SDK validates the provided data credentials.
This is followed by the video SDK responding with the Room SID that can be used later with API requests.
2. The client gets access to the tokens :
To get into the meeting room, it is necessary for the clients to obtain access tokens. This is so as it ensures that the client application has control of who is the authorized participant to join the video meeting room.
The First client requests an access token from the application server by making use of HTTP requests from the client app.
The application server utilizes the video SDK account credentials to produce a secure access token. This in turn gets the client with an access token.
Well, the web video conferencing API integration process further takes on certain challenges. Let's have a brief understanding about that in the next section.
Challenges Every Enterprise Encounters While Integrating Video Chat Solution
Video conferencing could be the best part for any business, mostly when utilized correctly. Therefore, it is very important to educate the employees when it comes to how to integrate video calling in android, iOS, and website apps with their exotic web video conferencing API.
Whenever you are planning for a video call integration in android, you must take care of lighting, sound quality, and speed bandwidth as they all play a very vital role in effective communication. An appropriate setup can address the possible issues beforehand, apart from this a strong internet connection to take forward the entire process.
Once, you have taken care of these thing, there comes the challenges that you need be aware of if ever decided to build a video conference calling solution
1. Long Delivery Times
Generally, it will take a long time to build a video call solution from scratch as a successful delivery of any application with web video conferencing api requires several AB testing and iterations. Likewise, the integration of video chat api involves multi-end testing right from deployment to code quality check.
2. Operational Complexity
Right from the deployment to managing the entire infrastructure of the application from scratch is quite complex and requires a handful of skills from techies. The developed infrastructure has to meet the expectation of the solutions' performance. On holding these complexities, focusing more the development process will meet the expectations.
3. Cross-device Security
The development of any application from the initial stage is a major thing where you need to concentrate on the entire deployment process and development. Security and privacy standards are something most of the enterprises relay whatever the solution. When it comes to video chat, concerning the security of the video chat is the most prime factor where the overall quality of the solution is carried.
What Does MirrorFly Have in Offer?
MirrorFly is a readymade chat solution that can be customized any kind of business. It has in-built voice video calling API and also MirrorFly source code can be integrated with other SDK and APIs to create a utilitarian chat application. The chat application can score high on several user-focused features like online presence indicators, private chats and group chats, location sharing, screen sharing and any other feature that makes enterprise communication systems like Slack, Stride, and the likes a hit.
The Components Requires To Integrate MirrorFly's Video Call API Into Your Existing Web & Mobile Apps
1. Authenticating Account Credentials
On the prior intimation with our business team, you'll get the entire source code with Video SDK credentials to utilize the services and to integrate the solution into your applications. The multiple authentication will help you access the entire video call SDK.
2. Server Application
With an advanced cloud based server application helps to run the application at your own premises and helps to synchronize the data such as contacts from third-party related applications. The server application will grant access to the entire video and audio call services.
3. Client Application
It's the end user side application where the real interaction takes place. With the client application, It's the application where the user sends messages, images and makes video calls with multi-party users for a virtual communication from mobile device or web browser.
The Benefit that You Get With MirrorFly
MirrorFly is a 100% customizable Video chat API & SDK solution that will suit to integrate the video and voice chat to enable video/Audio call. As an enterprise-grade user, you can pick any third party integration and integrate with MirrorFly's backend to add video conferencing to your chat app or website.


Additionally, MirrorFly can be customized video chat api for several use cases. From a dedicated chat app within an office to a doctor-patient communication system for hospitals or even a help support system for banking or financial institutions, MirrorFly can be used to build any kind of real-time communication system.
1. Quick Implementation
With MirrorFly's APIs and SDKs, the implementation of video calling is made simple where you'll have the entire access to source code.
MirrorFly holds a bunch of 150+ tech experts, the deployment and implementation of WebRTC enabled video chat is made possible at a short period of time.
2. Reduced Cost
Since, MirrorFly is completely a one-time license cost, you don't need to pay for subscription based models.
You can own the entire video chat platform with upgradable features and customization on the functionalities, design (UI/UX) and different hosting possibilities (On-premises/on-cloud).
3. End-to-end Security
Whatever the application, it requires advanced standard security and privacy policies. When it comes to business collaboration tools, Video chat for business requires the utmost security standard.
MirrorFly is equipped with enterprise security standards such as End-to-end encryption, HIPAA, COPAA and GDPR compliant to protect against security risks.

MirrorFly – Voice/Video Calling Features for Businesses
Video Conferencing – Make unlimited HQ video conferencing from any application and host up to 250+ conferencing participants. With MirrorFly's Video conferencing API, you can connect with your remote team across platforms & devices.
Live Broadcasting – Host high-quality live events to unlimited participants right from the application. Broadcast the on-going live events or conferences, training courses or anything happening to global users with a utmost low latency irrespective of bandwidth.
Video Recording – Record any of the on-going video calls, conferencings or audio calls with a tap of a button. You can retrieve the entire recorded content for further reviews. Record any conferences such as project review or meetings.
Screen Sharing – Share your desktop screen to any member to access the information such as presentation and files during the meetings. Broadcast your entire screen to your employees to get the tasks done quickly where the entire team can work on it simultaneously.
Cross-Platform Support – MirrorFly's Video call API & SDK supports major platforms such as Android, iOS and Web browsers to make calls from one device to another. Our solution also supports any device right from desktop to Tablet and Smartphones.
SIP & VoIP Calls – MirrorFly ensures SIP capability to make voice calls to network carriers from mobile applications or browsers. The SIP enabled calling replaces the traditional carrier network calling which is a cost-effective factor for most of the businesses.
1 to 1 or One to Many – The Audio/Video chat API integration Facilitate a group call or individual communication with highly reliable and efficient quality calls across all the devices.
Encryption – At one end of the sender's voice/video is transferred that can be encrypted and another end receiver can be decrypted the voice/video for most secure communication.
Adaptive H264 Codec – This helps to provide quality video or voice continuously at very low bit rate without reducing the complexity of the video/audio.
Low Latency -The message can transfer within a short period of time. It consumes the low level of data.
Own Turn Server – This acts as a medium to route the connection properly between the client and user with ensuring bandwidth usage.
Cross Platform – It supports the cross-platform and also allow to run the application from the existing platform.
Native SDK's – A set of Video/ Voice call native code libraries can be embedded into Android, iOS & web.
Spam Protection – Added powerful tools to avoid unwanted threats, secure the data and maintain privacy etc.
Full Customization – Customize the code conveniently according to the business model or backend code integration.
Build your own Video App with our API
Use Cases of MirrorFly That Supports Multiple Industries To Communicate Effectively
1. Video Call Integration Into CRM Platforms
When it comes to CRM platforms, there is a time when the customers' conversations get hidden into long email or scattered around in spreadsheets, that eventually creates inconsistent interactions with customers. But, after the integration of video call API into CRM, the relationships with customers have moved to another level. Let's have a look at some of the benefits
It increases the interaction between your sales team and clients by offering virtual communication possibilities.
With Video call integration in CRM tools, It helps to nurture and increase conversion rate of your leads into potential business deals.
The video call functionality helps to streamline your sales process by providing project demo to most crucial clients and much more to do with video calls.
2. Virtual Communication In Telehealth Applications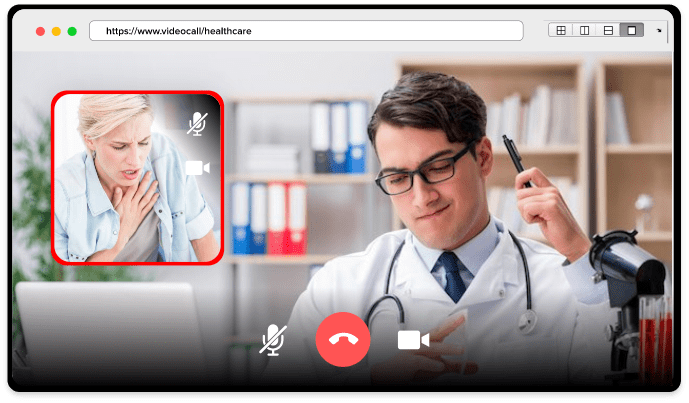 Every patient deserves access to the right care at the right time despite the remote area to ensure the best possible result.
Therefore, to have better and instant communication in case of emergencies, the concept of telehealth app has been introduced which connects the patient and the doctor.
It is a secure mode of communication that happens via integrating video calling into existing web and mobile apps. Let's explore some of the keen benefits when it comes to virtual communication,
With MirrorFly Video call integration on telehealth platforms, helps to connect doctors and patients in real-time to avail treatment on emergencies.
The telehealth video calls can be helpful in remote areas where accessing healthcare related treatments is impossible.
The video call features helps patients to reduce the travel cost to clinics where virtual interaction is way more equal compared to physical treatment.
3. Teachers & Students Interactions Through Video Calls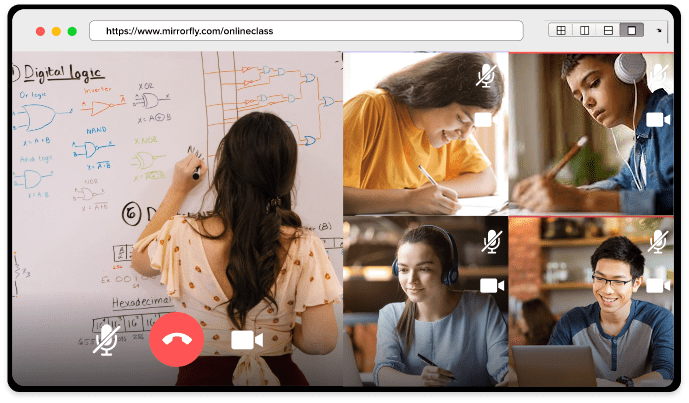 In earlier days, when there is a need for students to communicate with teachers in the absence of regular classes, they can have a text or voice conversation to clarify their doubts. But, today by adding video conferencing to the website, the teacher and students can communicate with each other in a face-to-face manner. This mode of communication has lead to many benefits,
With MirrorFly's video call, eLearning platforms can connect students and teachers to make online education more interactive and effective.
Educational professionals and trainers can host online courses with interactive tools like white board drawing, private or group training with students.
The new normal of education system can be carried with video calling and conferencing to reduce the impact of COVID-19.
4. Connecting Customers & Agents Via Real Estate Websites/Apps
Searching for a property in the desired location, is not that easy task. Of course, every one of us has experienced that as in those days, we have to roam around with these real estate people in search of a property.
But, now the real estate industry has revolutionized in digital terms where everything is possible with video conferencing technology. Let's have a look at some of the benefits,
Real-estate professionals can run their businesses through video conferencing & video calling by enabling customers to visit the properties virtually.
This helps real-estate professionals to deal with multiple customers across the states and districts simultaneously to deal with real estate managers in close contact.
Making Recruitment Process More Convenient for HRs
By integrating video call or video conferencing into HRMS Tools, HRs can streamline their recruitment process and drive more shortlisted candidates in a short time.
With video conferencing or video calling, it reduces the time it takes to interview a candidate and replace candidates to drive better productivity in organizations.
5. Reducing Compliant Issues In Travel & Hospitality Sectors
In the earlier days, the traveling and hospitality industries made use of voice and text concepts to communicate with the customers to book a room or travel related stuff. Most of the time, it has brought the customers into the state of deception.
But, the integration of video calling has created a great change in customers' perspective in approaching this field. Let's have some of the benefits,
With video calling, you can connect with your customers during issues in real-time instead of emails and regular phone calls.
It helps your support team in connecting with customers through the existing application which in result enhances customer satisfaction and performance of your organization.
6. Real-time Interaction with On-demand Customers
With integration of video calls on on-demand applications, dealers, installation service providers can connect with customers to install electronic appliances due to COVID-19.
The video calls on platforms increases the trustworthy and customer satisfaction by offering instant response/solution to customers.
7. Cabinet Meetings With Government Officials Across the States
The video conferencing and video calls can help government officials to connect with other state ministers during natural disasters like COVID-19 to make decisions.

The meetings happening within MirrorFly integrated applications are secure and end-to-end encrypted to avoid leakage of government related information and protect against unauthorized access.