Looking for the best Twilio alternatives? This article brings to you a list of carefully hand-picked 10 communication API platforms that can replace Twilio's features from your apps.
We'll focus on the criteria like pricing and features to help you take your in-app conversations a step further. Without any further ado, let's dive right into the details:
Twilio Alternatives: The Top 10 API Providers in 2023
Here is a list of the best Twilio alternatives:
The table below lists the best alternatives to Twilio, outlines their top features, and includes their fundamental pricing and plans.
Provider
Best For
Pricing
Vonage

Small and Mid-Sized Businesses that depend on in-depth know-how and customer data in order to optimize user experiences.
Mobile: $19.99 / month per line + taxes & fees
Premium: $29.99 / month per line + taxes & fees
Advanced: $39.99 / month per line + taxes & fees
Sinch
Organizations that require Rich communication services, social media messaging, and the ones that run SMS campaigns.
Not Available. Need To Contact Their Sales Team for Pricing Info
Plivo
Businesses that need SIP trunking.
Startups and Small-scale businesses involving discounts on committed use.
Distinct Pay-As-You-Go-Pricing / Feature
Volume Discounts For Committed Use
Bandwidth
Businesses that involve networking and wireless IoT connection

Communication APIs
Emergency Access
Enterprise Cloud
Telnyx
Telecommunications, IT, NPOs, mining, and other industries use Telnyx as their communication API provider
Elastic SIP Trunking: Starting at $0.0035/min
Voice API: Starting at $0.002/min
SMS API: Starting at $0.004
Fax: Starting at $0.0070/page.
Wireless: Starting at $0.01/MB.
Verify API: Starting at $0.03/Verification
Identity Services & Data: Starting at $0.0015/LRN lookup
Networking: Starting at $100/month (AWS 50Mbps)
MessageBird
Social media apps where users interact with each other directly via instant messaging. For example, Whatsapp, Instagram, Twitter, Facebook, etc.
Distinct Pricing for Applications, Messaging & SMS & Voice
Support Plans
Coach+: $500/month
Business: $2,500/month
First Class: $5,000/month
Private: Custom Pricing
Vidyo
Companies that involve video conferencing, telepresence solutions
and remote communication solutions use Vidyo platform.
Free: $0/month
Pro: $19.99/month
Cometchat
Marketplace, Education, Social Media, Gaming, E-commerce and Customer service are the industries covered by Cometchat.
Startup: $149/ month
Growth: $399/ month
Scale: $749 / month
Enterprise: Custom Pricing
Quickblox
SMBs that need to create custom mobile apps, Education, Retail, Media, E-commerce, and Non-profit organizations are industries that use Quickblox for building communication.
Basic: Free
Starter: $99 /month
Growth: $249 /month
HIPAA Cloud: $399/ month
Enterprise: From $599
Infobip
Fintech, Ecommerce, Banking, Transport & Logistics and Online marketplaces are areas where Infobip is used for building communication.
SaaS Plans
Start, Grow, Scale
1. Vonage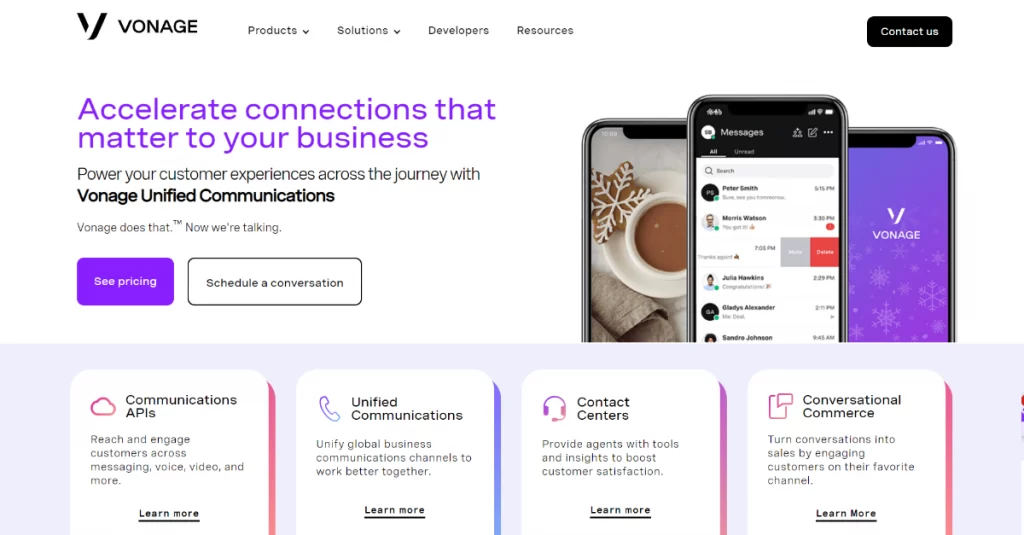 Vonage is a popular Twilio alternative that serves as both B2B (Business to Business) and B2C (Business to Communication) platform to enable omnichannel communications to businesses and direct consumers. This communication platform (CPaaS) service consists of over 1600 carriers around the world with a reliable network.
Key Features
Vonage Meetings
Call Conference
Call Forwarding & Flip
Contact history and logs
Click-to-dial
Do Not Disturb
Call Screening
2. Sinch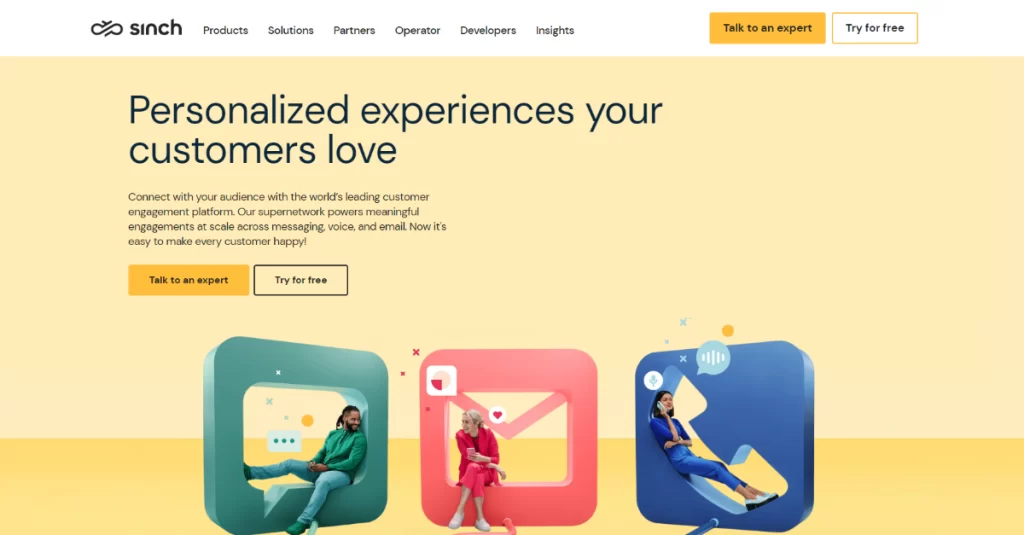 Sinch APIs are built to be developer-friendly and fairly easy-to-use, making it one of the most convenient Twilio alternatives. You can easily migrate to Sinch's features without missing out on any essential features from Twilio. Also, the use of REST APIs allows you to integrate full libraries of communication features with enhanced functionalities, into any Android and iOS apps easily.
Key Features
Chat & Messaging
Live Chat
Multi-Channel Communication
Voice Recognition
Third-Party Integrations
Alerts & Notifications
Content & Communication Management
3. Plivo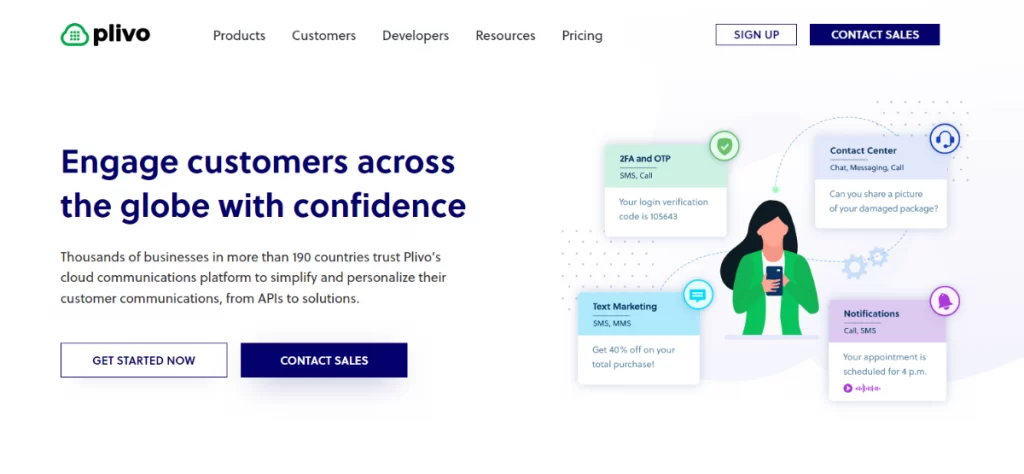 Plivo is one of the most popular Twilio alternatives that enable businesses to add SMS and voice capabilities to their apps. With their flexible APIs, you can easily create custom communication solutions by adding third-party integrations.
Key Features
Bulk Messaging
Notifications For Voice Broadcasting
Extensive Device Support
Dynamic Caller ID
Intelligent Call Control
Unicode Characters
Message Queueing
4. Bandwidth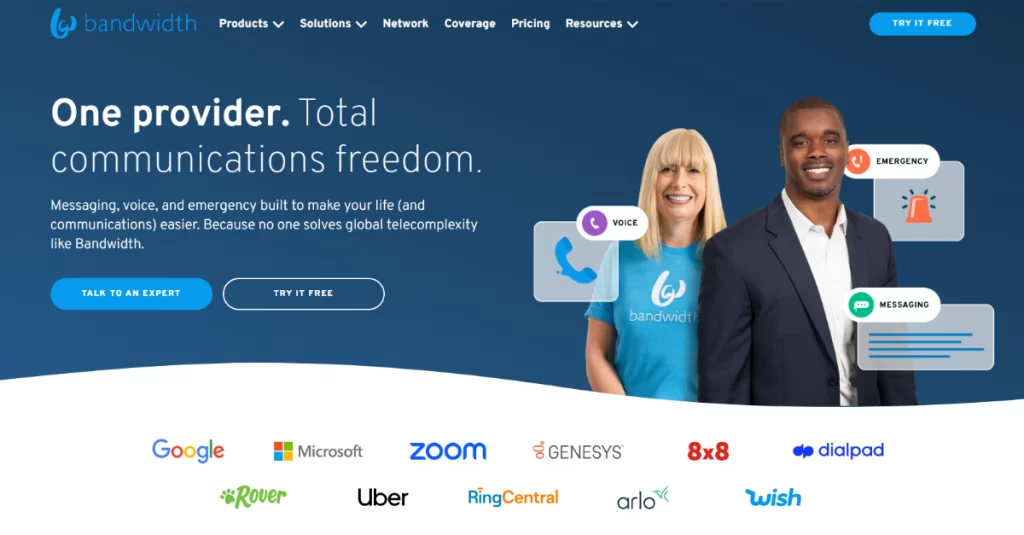 Bandwidth is a communication API provider that gives developers the tools they need to build communication capabilities like voice and messaging into their apps and systems. Additionally, the provider also lets you increase engagement with third-party integrations like CRMs and helpdesks.
Key Features
Instant Messaging/ Internal Messaging
Call Routing
Online Account Management
SIP Trunking
Hosted PBX
Conferencing
Dashboard
5. Telnyx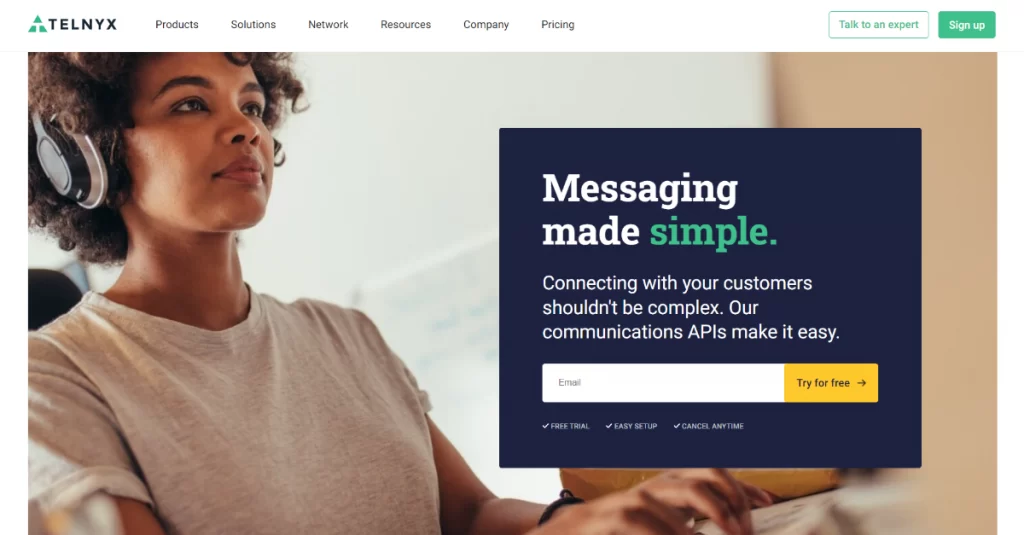 Telnyx can be a good option to consider if you are planning to migrate from Twilio, and would like to opt for a cloud-based communication platform with SMS, voice and data services. With Telnyx APIs, you'll be able to flexibly add communication capabilities, and scale with ease whenever needed.
Key Features
Access Controls/ Permissions
Call recording
Call routing
SIP Trunking
Reporting & Statistics
Unified Communications
Self-service portal
6. MessageBird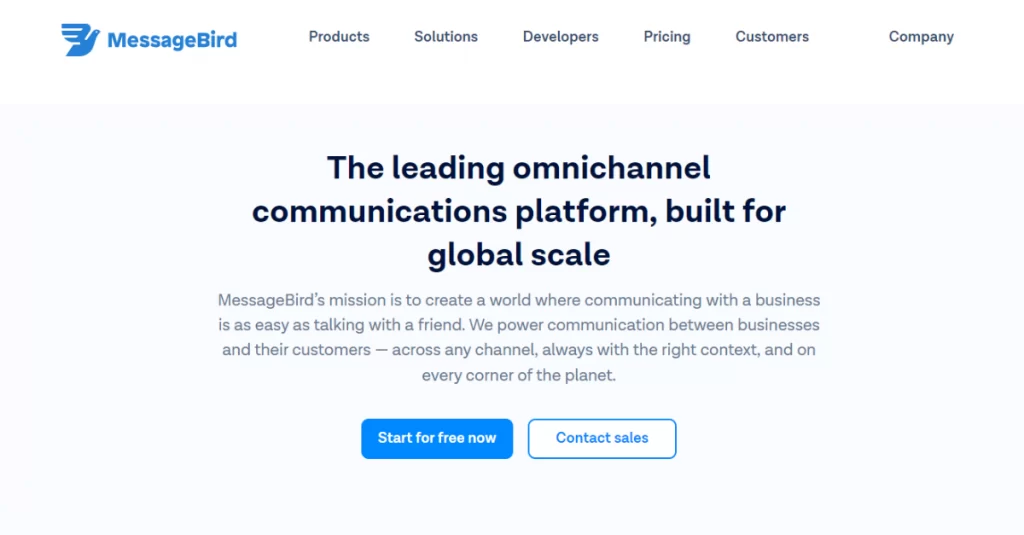 MessageBird is a cloud-based communication solution that offers SMS, voice calling and instant messaging features to web and mobile apps. The provider has designed its APIs to help businesses reach their customers globally via multiple modes of communication and across a variety of devices and platforms.
Key Features
Online Booking
Recurring Appointments
Call/Chat Rescheduling
Alerts, Notifications & Reminders
Activity Tracking
Automated Responses
7. Vidyo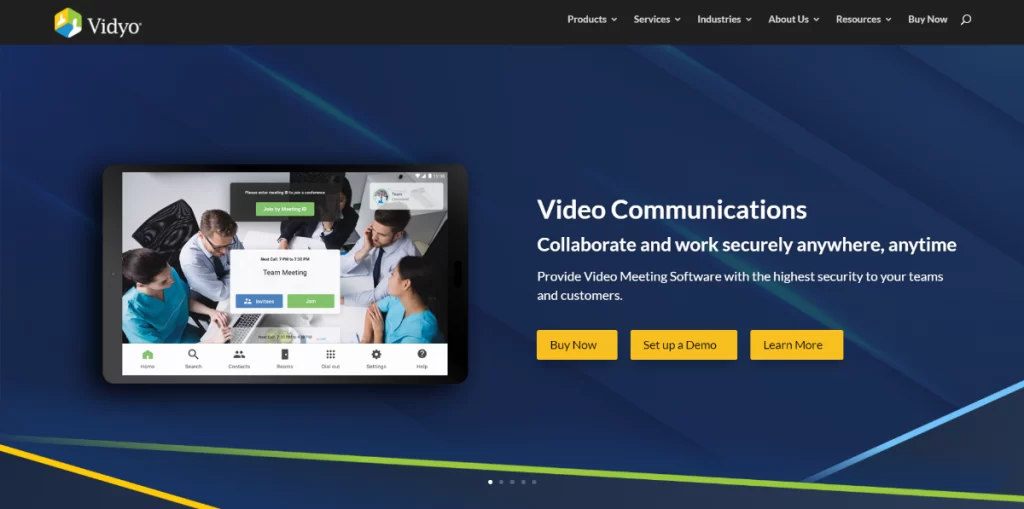 Vidyo is a great option for businesses that are rooting for best video conferencing solutions. It helps developers bring in collaboration capabilities for real-time communication, with high-definition video and audio without compromising on the security.
Key Features
Video Streaming
Screen Sharing
On-demand Webcasting
Two-way Audio & Video
Record & Playback
Presentation Tools
Video Conferencing
8. Cometchat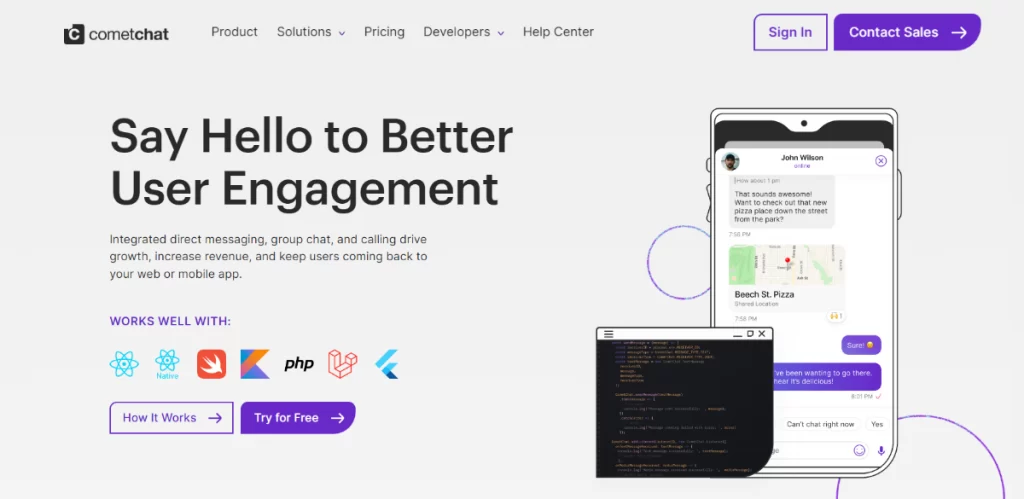 Cometchat is one of the leading communication API providers for businesses and organizations and well-known Twilio alternatives. It offers real-time conversational features like text messaging, voice and video calls along with unique engagement capabilities. With respect to ease-of-use, Cometchat is considered as one of the most flexible and reliable SDKs in the market.
Key Features
Instant Chat & Messaging
Call Recording
Audio/ Video Conferencing
Fax Management
File & Media Sharing
9. QuickBlox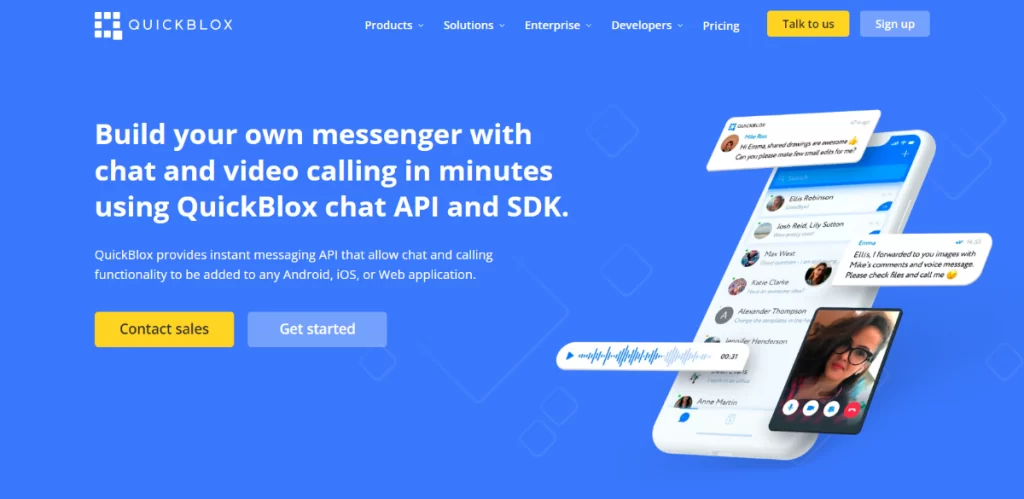 QuickBlox makes it easy for developers to add chat, video and voice calling, push notifications, and data storage, with its plug and play SDKs. Their SDKs are compatible with a variety of platforms like iOS, Android and Web. In addition to this, Quickblox lets you add custom protocols like XMPP, RTMFP and WebRTC to enable real-time communication features seamlessly.
Key Features
Push Notifications
Group Chat
Public Chat
Online Presence Indicators
Read receipts
Screen-sharing
File Storage
Data Schema
10. Infobip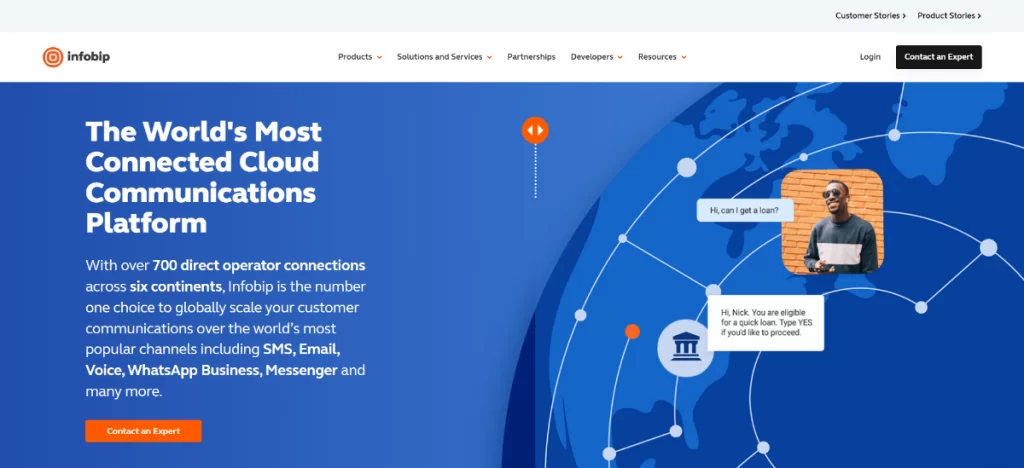 Infobip is an omnichannel communication platform that lets you add customizable messaging, voice, email and SMS solutions to your business apps. This provider simplifies your migration from Twilio and provides capabilities that can elevate your user engagement, retention and satisfaction.
Key Features
2-way messaging
Activity Dashboard
Audio/ Video Conferencing
Call Recording
Call Routing
Connectivity Management
IVR/ Voice Recognition
Real-time Notifications
Analytics/ reporting
CONTUS MirrorFly Vs Twilio: Which Provider Is Best For You?
Both CONTUS MirrorFly and Twilio are powerful communication API providers that allow developers to integrate chat, voice and video into any mobile and web app. In order to figure out the best one that fits your needs, you may need to consider a few features and capabilities.
Let's take a look at each one of them one-by-one:
Features:
CONTUS MirrorFly offers video, voice, and chat capabilities at ultra-low latencies, simultaneously striking a balance with the quality of communication. Plus, you'll also be able to avail features like file sharing, stickers and emojis, call muting, notifications, online presence indicators and more.
Whereas, Twilio offers similar communication capabilities along with features like a contact center, phone number management and task routing.
Ease of Use: You'll be able to find user-friendly developer documentations in both CONTUS MirrorFly and Twilio, to make it easy for you to understand the complete integration workflow. Still, the level of ease depends of your familiarity with specific tech stack & language you'll need to use for the integration process
Pricing: CONTUS MirrorFly offers both 'Pay-as-you' and 'One-Time License Cost' pricing models to make it flexible for developers, based on their business model. The SaaS model offers curated monthly & yearly packages, while the SaaP model offers 100% customization of features and capabilities.
On the other hand, Twilio provides only a 'Pay-as-you' model with 4 different pricing plans. I'll recommend you to compare your requirements with the pricing plans of both the providers to make a sensible spend plan.
Support: Both CONTUS MirrorFly and Twilio provide diverse levels of support to help you fix roadblocks and issues. Their services include documentation, 24X7 support, email/chat help. Above this, MirrorFly lets you hire a dedicated team of developers for full integration support.
Ultimately, the best provider for you will depend on your specific requirements and preferences. I suggest taking the time to carefully look into both CONTUS MirrorFly and Twilio and evaluate their pricing, how easy they SDKs are to use, and the support they offer. This way, you can figure out which provider is the best choice for your project.
Conclusion
All things considered, all the Twilio alternatives mentioned in this article helps you build a wide range of communication features into your app. The platforms differ from each other in terms of cost, features, scalability, security and reliability. However, it is important to carefully evaluate each of them and choose the right one that aligns with your needs.
Need to know more about a specific provider? Comment below and we will get their details for you!