Are you looking out for the best chat platform's providers for your mobile and web app, then I am sure that you must be well aware of what these chat APIs and SDKs are?
So, without eating up your time let me straight away get into the point as to what this post is all about.
To start with, this post is all about my views pertaining to my research, simply to give you certain clarity about the best Chat platform API providers for mobile and web in 2021.
Here, I have talked about the pros, cons, features, functionalities, developers' perspective, their needs in enterprises, and much more, to explore.
So, Let's start!
Comparison The Best 8 Chat Platform Providers of 2021
As mentioned above, it's better for you to have an open mind while moving across the facts regarding these best online chat platform providers.
Fully Customizable Chat Platform for Web and Mobile Apps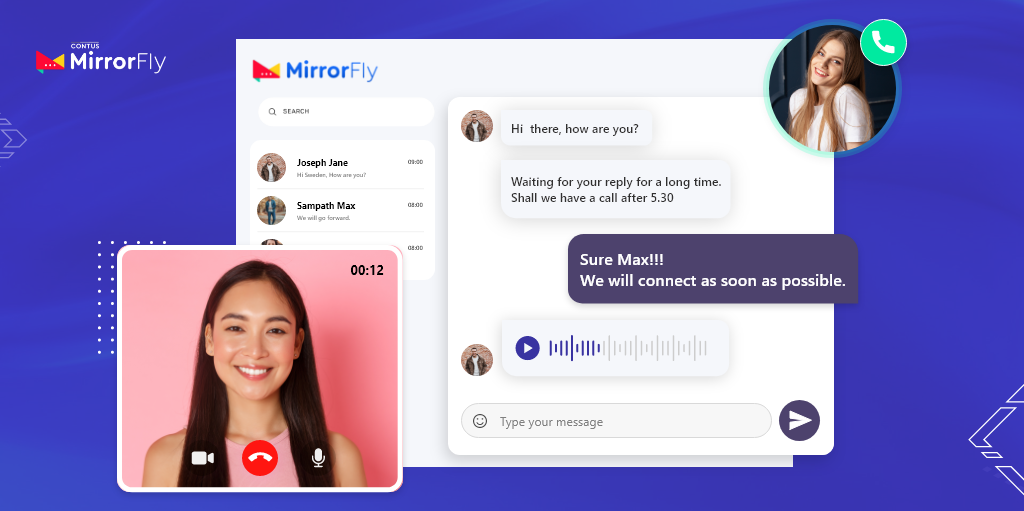 Founded in 2008. In the early stage this brand has launched the market as "ContusFly" but, in the later run in 2019 the brand has been renowned as "CONTUS MirrorFly," marking it's all-time presence in all modes of communication including chat, voice, and video.
CONTUS MirrorFly mainly targets connecting people and businesses across the world in real time through multiple platforms. Today, it has reached the place where it has been recognized as the best chat API and SDK provider for iOS, Android and web apps.
MirrorFly Chat Platform Features
All in one Chat Platform Including Chat,video and voice solutions.
Whitelabel Chat Platform
100 Customizable Solutions
Unlimited Video and Voice Calling
SIP/VoIP Calling
End-to-end security
150+ Chat Features
Pros
Facilitated with On-cloud/on-premises hosting
Highly innovative UI/UX design for better user engagement
White label chat solution to build your chat platform
Instant Support
Cons
No monthly subscription
Supportive Platforms
iOS, Android and Web Apps
Why Choose CONTUS MirrorFly Chat API & SDK?
CONTUS MirrorFly is the most powerful and developer friendly API and SDK providers with chat, voice and video features that are mostly looked up for
100% customizable with over 150 + chat features that can be integrated effortlessly into any existing or pre-built device
Support 1M+ concurrent users
White label chat solution facilitated with ready-made platform
Self hosted infrastructure with on-cloud/on-premises option
One-time-license cost
Enables high-end security with HIPAA, GDPR, AES-256, and much more.
A Complete Chat Platform for Android,iOS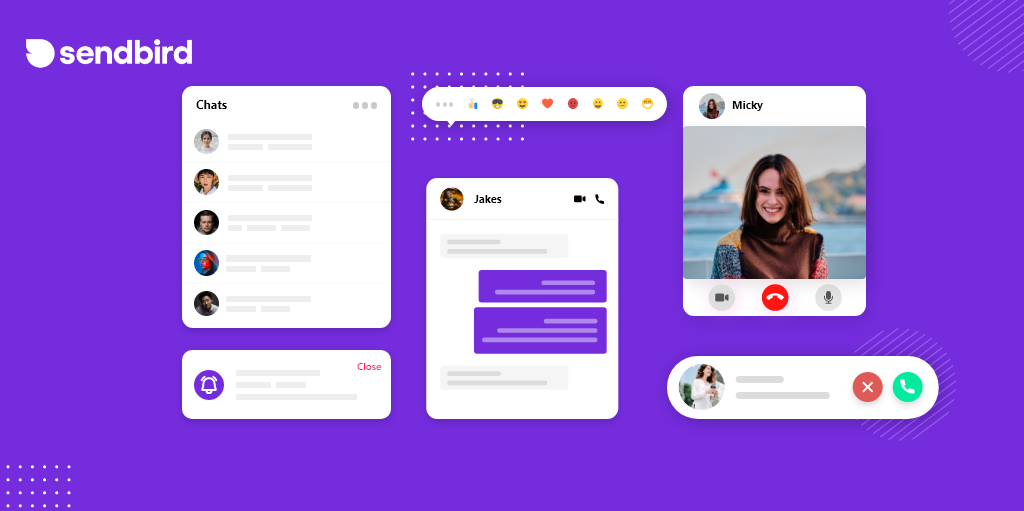 Sendbird is a leading chat platform for websites and mobile devices which was founded in 2012. It takes care of most of the operational complexities under the same roof, providing the rich chat service with voice and video calling experience.
Sendbird Chat Platform Features
Direct and group calling.
Image filtering
Multi-device support
chat moderation
Duto-reconnect
Call recording and quality scoring
Pros
Enables a variety of private group channels that can fit into any use case
Permits chat users to freeze a chat channel
Auto translation
Available on free trial on all Pro Features
Cons
limited Customization
Beta version for video and voice calling
The start-up does not enable any access to essential chat features such as announcements and delivery receipts.
Supportive Platforms
iOS, Android and Web Apps
Why Choose Sendbird Chat API?
Sendbird is mostly liked by the developer mainly for its interesting features that can be shared with encrypted files and autotranslations within the chat. It could be the choice for enterprises to have user support but when it comes to pricing, it may be a challenging one for small start-ups to rely on.
Scalable Chat Platform for Any Apps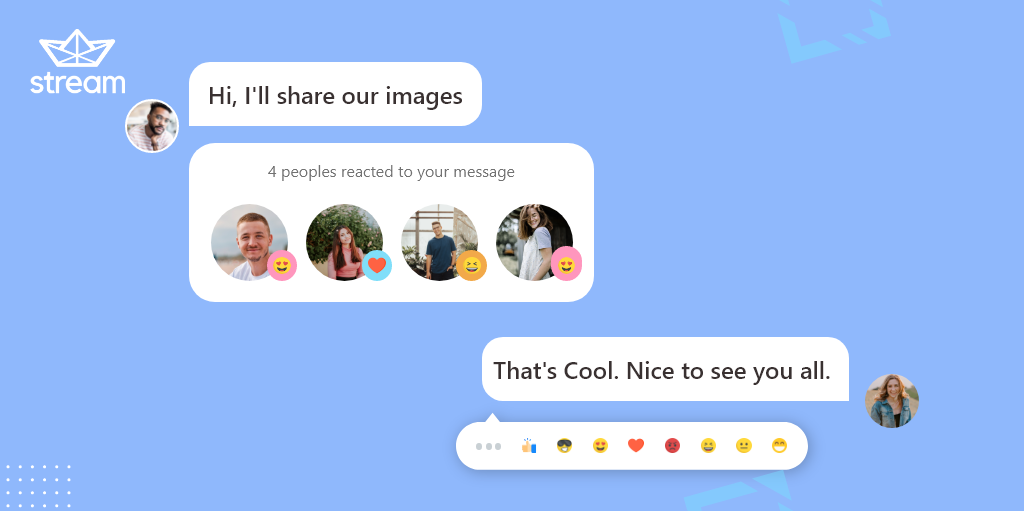 GetStream.io is an enterprise-grade chat and activity feed provider that builds a scaled in-app chat app in days. It was established in 2014 and has served over billions of end-users. It is one of the popular ones among other activity feeds that has supported Twitter, instagrans, Scaleforce, etc.
Getstream Chat Platform Features
Threaded conversations.
Spam and profanity protection
Edit and delete messages
Direct and group chats
E2E encryption via TLS
BGP + DNS routing
Pros
Activity, notifications & personalized feeds
Multi-region support
Can be integrated with easy-to-use REST API
Giphy, emoticons and file attachments
Can be set with ease allowing minimum coding
Cons
High pricing (499 USD/month)
Supportive Platforms
iOS, Android and Web Apps
Why Choose Getstream Messaging API?
GetStream.io is with a beefy chat SDK that is available with numeros custom features and vast UI options that can be utilized to modify the chats. However, besides the broad spectrum of features it's the high price that can make someone closed off, mostly for the small and startup enterprises. Other than that it could be considered good.
Best Open-source Chat Platform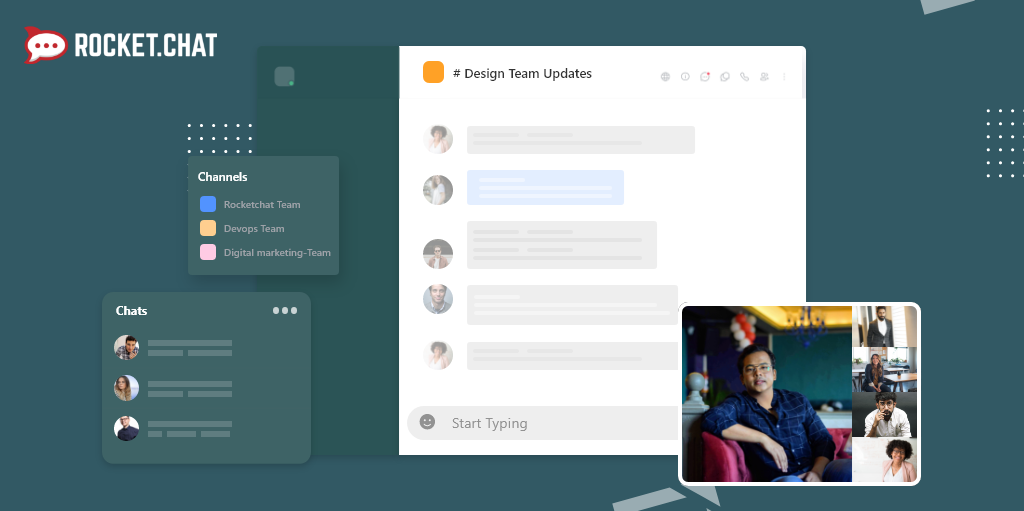 Rocket.chat is an open source team chat platform for websites and mobile devices that was established in 2015 provides a robust communication platform bringing infinite tools and people together. It unites all forms of communication under a single roof regardless of the user's device. It is an omnichannel platform that reduces the cost and increases the team performance by making use of several tools.
Rocket Online Chat Platform Features
Audio and video
Screen sharing
File sharing
Emojis
Live chat
SMS and CRM Integration
Pros
It's an open source which is easy to deploy and customize
Enable easy integration using Webhooks
Provides a live chat widget for any website
Provides on-cloud hosting option with Sleek U
Cons
No native office 365/Azure AD SSO and is comparatively costlier.
Accessing and registering for the Rocket.chat cloud marketplace is not easy and intuitive. Also it requires a paid plan.
Supportive Platforms
Mobile and Web applications
Why Choose Rocket.chat  API?
Rocket.chat is considered by most of the developers as its an open source with self hosting option. In addition it is easy to integrate with any 3rd party device. It provides complete control over the data and privacy issues.
A Complete In-App Chat Platform for Mobile Apps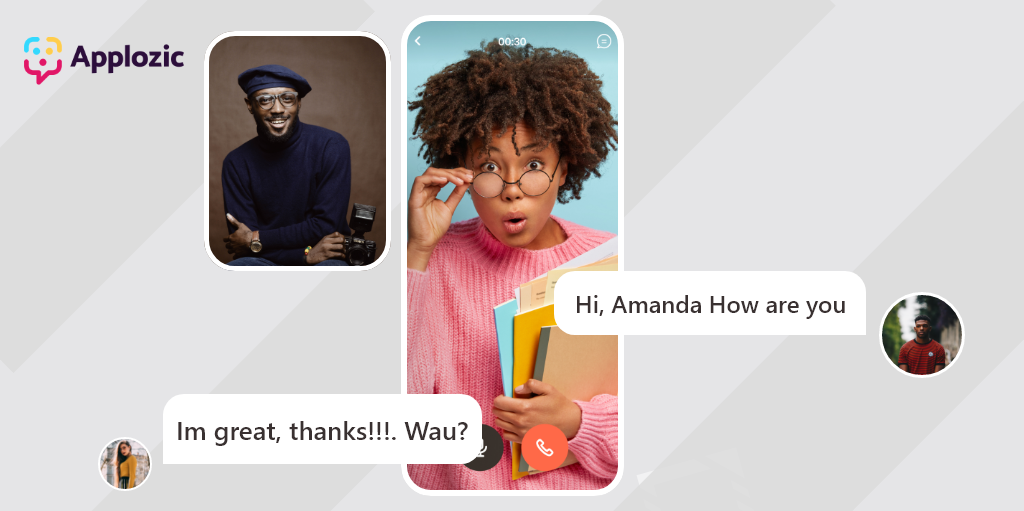 Applozic is a complete instant messaging SDK solution that empowers the enterprise-grade in-app chat applications. It was established in 2019 as a real time messaging API and SDK's with chat, voice, and video to any web, mobile and conversational app.
Applozic Chat Platform Features
one-to-one and multiparty chat
Delivery and read receipts
Timestamps
Typing Indicators
Media sharing
Protect and monitors users
Pros
Provides end-to-end encryption preventing eavesdropping
Enables multi-level authentication
Facilitates multi-tenant hosting
Controls the connections and MAU levels
Cons
does not provides any in-built VoIP feature or WebRTC.
Supportive Platforms
Android,iOS Applications
Why Choose Applozic Chat API & SDK?
Mostly developers go for applozic when it comes to complete chat platforms for website and mobile devices, where it is easy to integrate with affordable cost to scale the user engagement. However, this is despite its lacking opportunity over voice and video features where it does not compliment most essential needs of VoIP, email and SMS messages notifications, voice transcriptions, reactions, moderation features, etc.
Modern Day Messaging Chat Platform for Web and Mobile Apps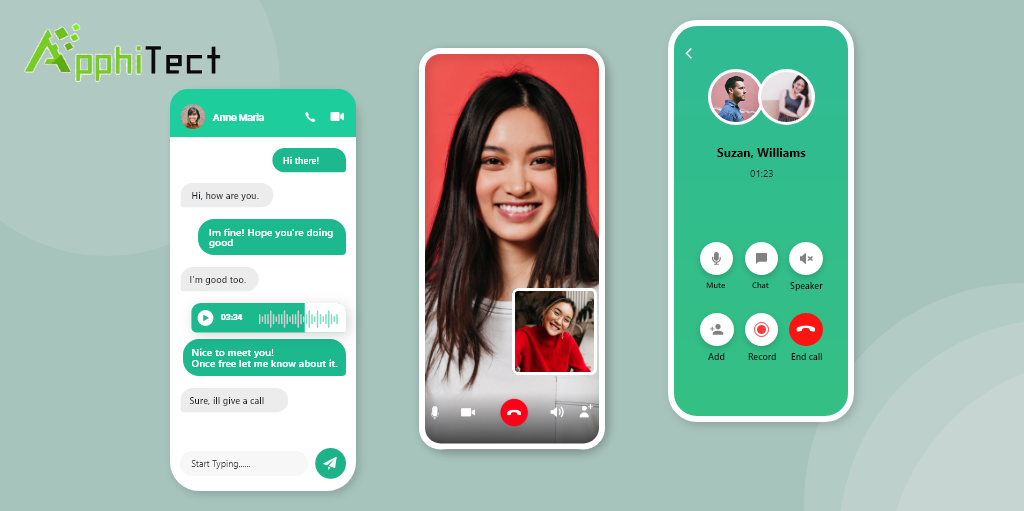 Apphitect is a leading instant messaging API provider with offline messaging facility that provides several features like personal-chats, social interaction type, etc. Apphitect is a UAE based real time communication API and SDK provider founded in 2008.
It provides a custom built personal online chat app experience to their users with enriched UX, voice and video call integration with native messaging SDK support, multimedia sharing, etc.
Apphitect Chat Platform Features
Geolocation tracking
Voice/video calling and recording
Voice/video conferencing
VoIP/SIP calling
Screen Sharing
Presence indicator & social integrations
Pros
Provides unlimited storage with on-cloud/on-premises infrastructure
Zero down time
Highly secure and scalable
Docs and Support
Cons
No monthly subscription
Supportive Platforms
Android,iOS & Web Applications
Why Choose Apphitect Instant Messaging API &SDK?
Apphitech instant messaging APIs and SDKs are mostly preferred by developers for being fully customizable with over 150+ real time chat features with easy integration into any mobile and web app. Since it is a SaaP-based model it is made available at one-time license cost with a self hosting option of on-cloud/on-premises services enabling unlimited storage space. It provides a safe and secure end-to-end-encryption over conversation and data.
Build Your Own chat Platform with 150+ Chat Features.

Real-time Communication Chat Platform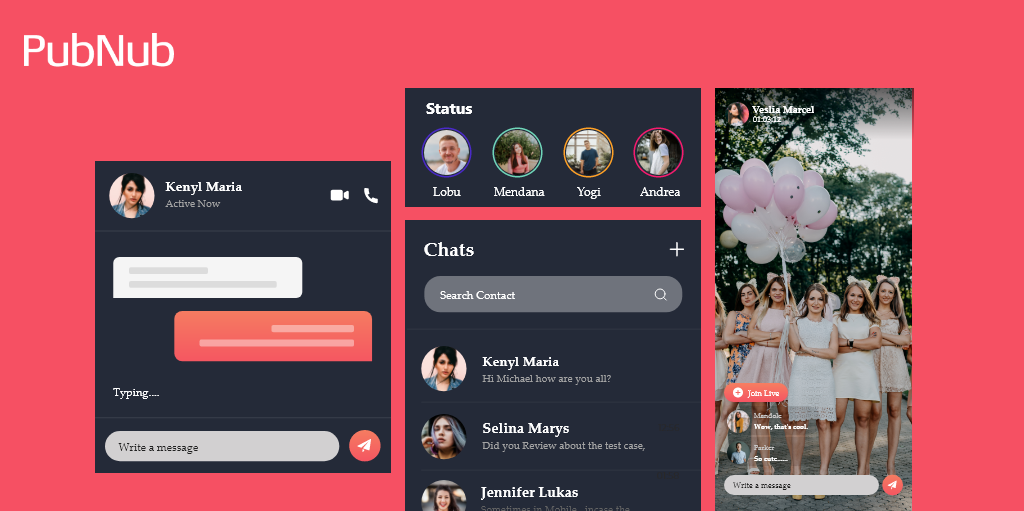 PubNub is one of the most popular real-time communication platforms which was established in 2010 that provides service for sending data between devices in real-time. It builds real-time features into mobile, web, AI/ML, IoT and Edge computing applications. It has highly reliable and secure chat APIs when it comes to one-to-one, group, and live event messaging with in-app alerts and notifications.
PubNub Chat Platform Features
Access controls/permissions
Device targeting
Proactive Chat
Reporting/Analytics
Canned Responses
Mobile alerts
Pros
Provides a good storage and playback space for real time events with zero setup cost
Swift API works well with automatic retry for dropped connections
Highly reliable and customer friendly
Cons
Standard Plans does not provides access to PubNub functions, HIPAA and GDPR compliance
does not provides good visibility into PubNub API calls as to get translated into any payloads
does not support WebSockets
Supportive Platforms
Mobile & Web Applications
Why Choose PubNub Communication API & SDK?
PubNub is mostly liked by developers since they provide a real-time messaging-as-a-service wherein you will never have to manage your own server. Here, the users can manage multi-tenant space quite easily but with coding PubNub still lacks supporting the binary encoded messages where it only guarantees full data replication for their Pro pricing plans.
A Complete Messaging Platform for Business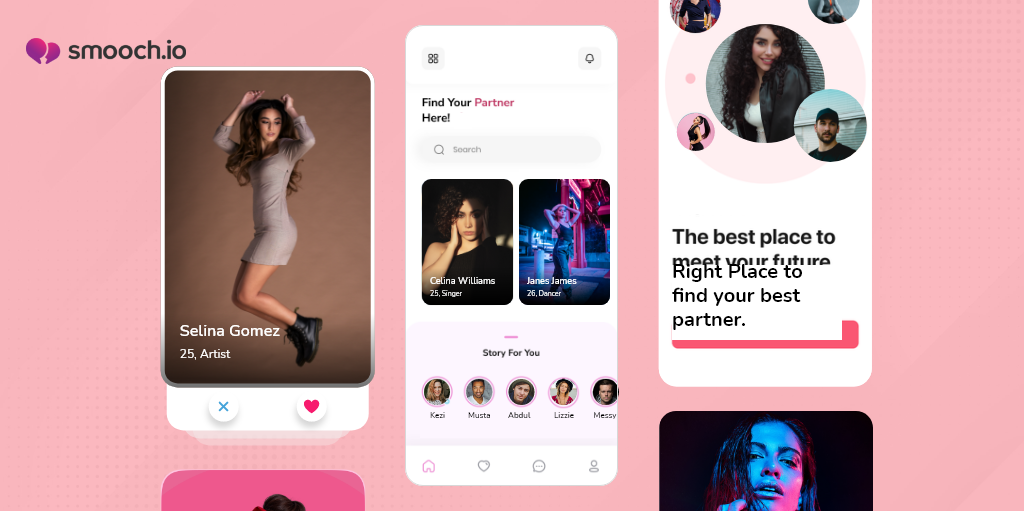 Smooch is the conversation SDK platform that allows you to build chat app features into applications and web pages. Smooch was founded in 2015 who's flexible SDK and REST APIs provides you a customized messaging tool to build your chat app. It empowers and transforms every customer's interaction into a personalized conversational experience with their enriched APIs and SDKs no matter whether the interaction took place in real time or via a bot chat. To use Smooch's plugins on a webpage you need to utilize a few of its options that includes the script tag method, npm and browserify, and bower methods.
Smooch Chat Platform Features
Reporting/Analytics
Third Party Integration
Automated message formatting
Message translation override
Formatting support for complex use case
Canned messages
Pros
Highly reliable and customer friendly
Smooch let your chat platform to communicate with anyone across multiple platform
It provides an easy-to-use UI/UX design
Strong solution with free plan
Cons
Communication could be managed only through Smooch panel
Supportive Platforms
Mobile & Web Applications
Why Choose Smooch Messaging Platform ?
Smooch is mostly preferred by the developer as it is highly scalable and flexible enough to work with Objective C and swift on iOS. It can be easily alloted in AAR and JAR formats for developers by making use of Android Studio, Eclipse or Netbeans. Its REST API allows communication with backend tools.
However, the above data is based on my reviews and research, which might differ from your perspective. But, I have tried my best to get you the most of the genuine details.
Moving forward, let's have a look at the concept as to why these chat platforms are that necessary for any business.
Do Businesses Really Need a Chat Platform, Let's Explore!
Although the impact of mobile phones with text messaging has become more and more convenient form of communication. The instant messaging apps are still able to make their place in business communication with additional voice and video chat features overcoming the language barriers in real time. Moreover, they have been proven successful enough in business's scenario – "quicker the process, the more chances of conversion."
According to a report, it has been found that with real-time chat features nearly 63% of the customers are more likely to revisit a website or application. In fact, the real time online chat platform usage is expected to continue to grow by more than 87% within the next 12-18 months, which is more likely as the growth of a business by around 150%.
But of course, I do admit that these real time chat platforms can not build your business's sales or assist you in making complex business decisions, but to some extent it will participate in the success of your business by being a part of your supportive pillars.
It will help your business with monetization, third party involvement, privacy and security issues, which is not that safe with other platforms like WhatsApp, WeChat, etc., as they keep on updating their policy terms and conditions as per their needs.
On the whole, I can say that these real-time chat apps efforts and usage can address your customer's needs and save your business's precious time.
With this clarity towards the real-time chat apps contribution in businesses, Let's have a look at the major concept in the entire journey as how to choose the best and right one for your business.
Want to Select the Right Chat API & SDK Provider – 5 key Points
Whenever you are planning to build a chat application, there are certain key factors that need to be considered before making a perfect choice with chat API & SDK providers for your enterprises with communication.
So it is important to see whether these chat apps are meeting your business's technical and non-technical needs or not. Thus, let me list out some of the major factors that need your high-level of consideration
1. Multi-platform coverage
Be sure that your chat API & SDK providers are compatible enough to work with any existing third party application like iOS, Android or web app, providing a multi-platform with multi-device coverage.
2. Scalable chat solutions
To be the best chat platform, it is very integral to be able to adapt to audiences of any size. All this is based on your business needs with scalability whether it's with one-to-one messaging, group chat, or open public channels, the chat app must be able to cope-up with all.
3. Secure enterprises communication
Security and safety are the key features that every business looks out for when it is about their user's data and interaction. Ensuring a high-end security with encryption standard protocols including AES-256, GDPR, etc., can build customer's trust.
4. Customizable
Creating a chat platform that meets all your business needs iswhat exactly you must look for. See to it whether your API & SDK provider offers 100% customization with easy integration of their APIs into any existing or pre-built device.
5. Price & Support
When it comes to pricing it is always better to go for one time license cost instead of monthly subscription, as one-time purchase of these APIs and SDKs will be comparatively cheaper than expected. Also check for 24/7 customer support as it is very much necessary to have your queries clarified in the first place before getting into further trouble with your chat application.
Well, the above post is all about my review and research and of course, I'm not asking to go with it as it is. But, I simply want you to have some market idea with an online chat platform, that's the reason I am here with my content.
So, now it's up to you to make a decision that will benefit your company and their demands. Still, if you think you need some more clarity and guidance just feel free to contact me. I am with my dedicated development team, ready to assist you with your needs as to how to create a chat platform in a cost-effective way.
Thank You and All the Best!