The VOD business is booming, and the numbers are staggering. According to reports, around 82% of internet traffic is video, and people are consuming more than 16 hours of video content per week. The demand for VOD services is at an all-time high.
In 2020 alone, the VOD industry saw a 12% increase in its user base and a 15% rise in its revenue. As per Statista, the VOD segment is projected to reach a market value of around $126,548 million by 2025.
Many businesses are leveraging this growth by establishing their own VOD platforms and monetizing their video content. This article discusses the impact, major industries, and benefits of VOD platforms, in addition to how to start your own VOD business.
What we'll be covering
Impact of VOD Platform
Type of Industries using VOD Technology
Why should your business use a VOD App?
How to choose the best video on demand platform provider?
How to Build Successful VOD Solution
Impact of VOD Platform in Current Business Trends
Audiences' viewing habits have changed. Today, they prefer the convenience of video on demand over traditional TV. The freedom to stream content at any time from anywhere has popularized what is VOD extensively.
In a survey, 80% of global respondents said that they like to watch movies on VOD platforms, followed by 50% who consume on demand TV programs.
VOD platforms are great for delivering viewers the content of their choice and retain them for the long term. VOD websites and apps are also easy to monetize, leading to the growth of business revenue.
Type of Industries using VOD Technology
Due to the versatile nature of VOD technology, many sectors are using it to streamline their operations and grow their business. A report by Wibbitz suggests that 56% of marketers are currently implementing video in their content strategy, and another 61% are planning to do it in near future. With HD video on the frontline of business and communications, VOD platforms are becoming more and more relevant.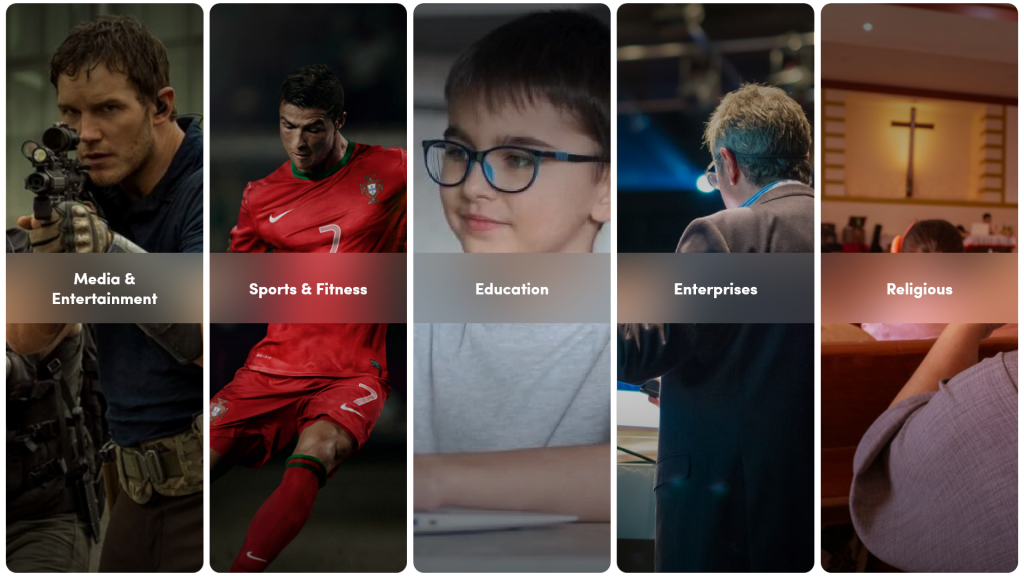 Here are the top 5 industries that are leveraging video on demand technology in their business.
Media & Entertainment:
M&E industry is all about providing information and entertainment to audiences. With content becoming increasingly video, VOD technology helps build platforms to effectively deliver it to viewers.
Sports & Fitness:
Sports & Fitness has always been a real-time physical experience. But VOD has added a new dimension to this online fitness platform industry by introducing recorded events that viewers can watch as many times as they want.
Education:
Today, education is not only confined to classrooms. With the introduction of e-learning, students are able to learn remotely through recorded videos, lecture capture, flipped classrooms, and more, all made possible due to video on demand.
Enterprises:
VOD platforms help businesses with their communications by allowing an effective exchange of messages, training materials, instructional videos, and promotional content among the team members and the end-users.
Religious:
VOD technology helps religious organizations to spread their teachings and discourses across the world through recorded videos. Followers can watch the preaching sessions online and become a part of the community irrespective of their borders.
Why should your business use a VOD App?
VOD has multiple benefits to offer to both the creators and the consumers. Here are 7 good reasons why you should build your own video on demand platform.
1. Convenience:
VOD services allow users to watch the content as and when they like. There are no restrictions on time and place, and one can watch a particular content multiple times. Additionally, users can stream content of any geographical location, which is not the case with a traditional TV. With VOD, audiences also have the freedom to cancel their subscription at any time.
2. Unlimited Customers & Accessibility:
Having a VOD platform of your own allows you to cater to unlimited consumers. One can access your platform from any device with a single click. By creating content that resonates with your viewers, you can increase your audience base manifold.
3. Online Community and Passion:
VOD business is more than just streaming videos. It is about building a community around your ideas and passions with people who share similar interests. By delivering value and original content in their particular industry, one can become very successful in the VOD streaming world. Take the example of Netflix, whose users share a common sense of belongingness around its video content, resulting in Netflix becoming a streaming giant.
4. Source of passive income:
There are various monetization options in a video on demand platform. With SVOD (subscription video on demand), you get recurring revenue month-on-month from your subscribers. This ensures a steady flow of income and allows you to focus more on creations without worrying about money.
5. Control over your variety of content:
By building your own video on demand website, you get complete control over your content. It is you who gets to choose what, when, and how you want to share your ideas with the world. There are no advertisers' guidelines to be followed that may hamper your creativity. In short, you become your own boss.
6. Multiple Revenue Streams:
Video on demand services have multiple video monetization methods to earn revenue from the content. You can choose among the most popular ones, including (ad-based) AVOD, SVOD (subscription-based), and TVOD (transactional or pay-per-view). There are also options to use hybrid models like SVOD & TVOD or SVOD & AVOD to maximize profits depending on the business.
7. Ad-Free Entertainment:
There is no denying that advertisements have never been welcomed by our consumers. Most of them are ready to pay a premium VOD price to stream ad-free content. In traditional TV, viewers have no option but to watch the ads as the service uses AVOD monetization. But VOD provides them without ads entertainment after video subscription platform that attracts many consumers.
How to choose the best video on demand platform provider?
For building your own VOD platform, you require the services of a good video on demand platform provider. Today, the market is populated with various VOD solution providers, but it is important to choose the right one that fits your individual business needs and goes well with your content strategies.
An effective VOD solution provider must have all the latest features and technologies that are future-proof. A strong IT infrastructure coupled with a robust distribution network will help you remain relevant and scale up in the future.
If you are looking to make money from your VOD platform, then pay attention to the monetization models and payment gateways support. Last but not the least, the service should be within your budget as the content creation and streaming business takes heavy investments upfront. 
How CONTUS VPlayed Helps Business to Build Successful VOD Solution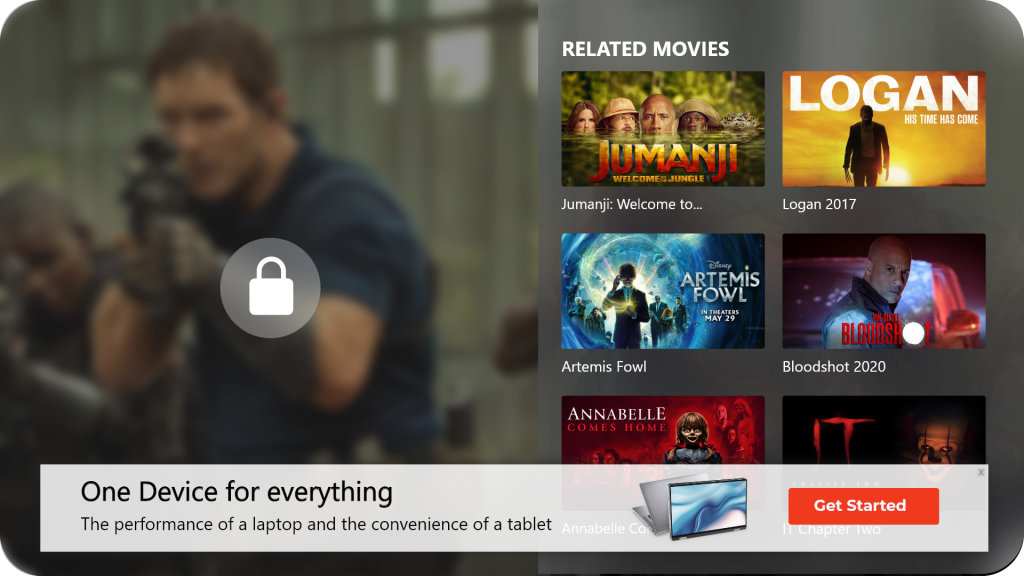 CONTUS VPlayed is an end-to-end streaming solution provider that lets you digitize the video experience for global audiences.
Here are the top 6 features that make CONTUS VPlayed a strong VOD solution provider.
100% Customizable:
CONTUS VPlayed offers white-label capabilities that let you host videos with your own branding. You can completely customize the platform as per your brand identity without creating anything from scratch.
Multiple Monetization Model:
In addition to the three basic monetization models – SVOD, AVOD, and TVOD, CONTUS VPlayed also offers Catch-up TV, Coupons & Promotions, Third Party Ad Integrations, and Server-Side Ad Insertion.
On Cloud/ On-Premises:
CONTUS VPlayed provides both on cloud and on-premise streaming facilities that you can select depending on your target audience, uses, and requirements.
Secured DRM:
CONTUS VPlayed has a multi DRM platform that offers end-to-end encryption and protects your content against piracy and infringement through secure video storage, dynamic watermarks, paywall integrations, and more.
In-Built Marketing Tools:
To enhance user engagement and lead conversions, CONTUS VPlayed provides multiple tools to create compelling CTAs, lead capture forms, and video email marketing. 
All Device Video Player:
CONTUS VPlayed offers a flexible HLS-built HTML5 online video player that ensures a high-quality buffer-free viewing experience. It comes with adaptive bitrate streaming and multi-screen support that adds to the convenience of viewers.
Conclusion:
Video on demand is a powerful tool for businesses. But knowing where and how to start can be a bit confusing. As mentioned, an advanced VOD platform provider like CONTUS VPlayed can help you build an impactful platform to directly broadcast your creative ideas to the world. With effective planning and thoughtful investments, you can surely achieve greater success.
If You Already Have An Idea About Start a Video on Demand Business, Schedule A Free Demo
And We'll Help You Implement It!