Whatever be our lifestyle, we all have to accept that this digital era has made a substantial impact on everybody's lives – Almost changed our perspective on both business and personal life!
According to statistical data reported on Sept 10, 2021, as of Jan 2021 – among 4.66 billion internet users, around 91% are the mobile users who use most of the online apps including social media that's with a strong user-base engagement.
Wherein, this digital era has made us stay connected and engaged through a variety of platforms even at the most drastic situations. This has eventually turned the mind of many young developers to jump into the field of real time communication mainly for voice and video chat app development.
However, this is not an easy game to play wherein, the market is filled with a lot of players. But still, I thought to assist you with some of my research on "what's the best way to build a voice chat app – something from scratch or using APIs?"
Let's start over with the market research on some popular voice chat apps!
However, where the global process of communication is going up every other day. These are the online voice calling apps that have grabbed most of the audience's attention comparatively, when it comes to text and video communication.
Let's have a look at some of the most leading online "best voice chat apps" that have been trusted by a lot of users,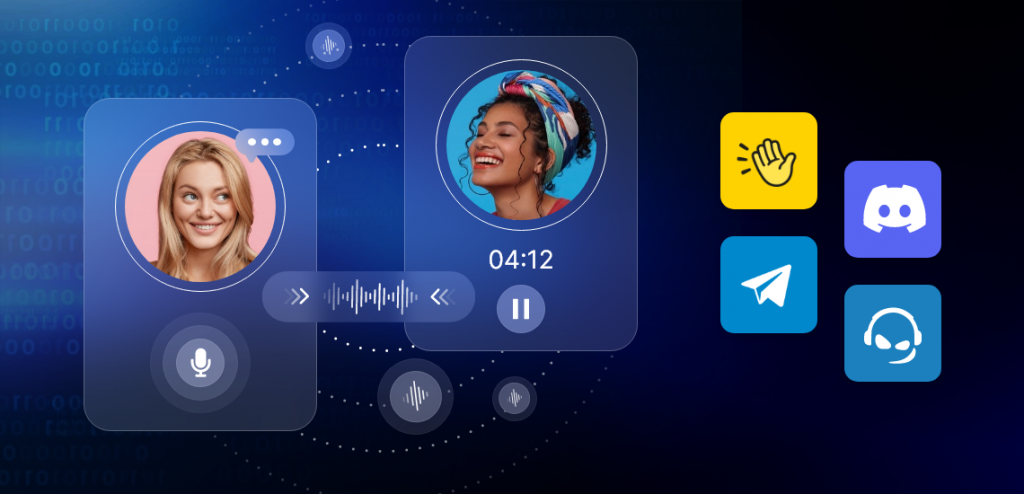 #1. Clubhouse "An Interactive and Fun Platform"
Clubhouse has taken off with it's journey in the real time communication industry in March 2020 with its wings being spread over into social media as a social audio app, mainly meant for iOS and Android.
Clubhouse connects like-minded people across the world and allows them to have a pure discussion over their desired topics. Eventually, create the community to have interaction with fun. Moreover, here all the discussions are carried out in-live at their dedicated online rooms, where the users can just be a listener or an interactive participant depending upon their choice.
#2. Discord "A Gaming App with Built-In Voice"
Discord is a gaming app with VoIP, instant messaging, and digital distribution launched in 2015 by game development studio Hammer & Chisel for dedicated gamers. With discord, it has been appreciated and accepted by the gamers at the very early stage. This has happened since most video games struggled previously with built-in group voice communication in chat apps.
Discord has not only made its presence among the gamers but has also grabbed the attention of the general audience with most of the positive feedback for outstanding functionalities that includes creating servers and channels for a variety of purposes.
It can also be used as a background voice connection during online matches, etc.
Build Highly Scalable Voice Call Experiences with Our APIs
#3. Telegram "Another Layer of Communication"
Telegram is the voice messaging app that has touched the communication industry, being launched in 2013 by brothers Nikolai and Pavel Durov, the founders of Russian VK. This app has started its presence with amazing functionalities of voice messaging alone, but in the later run in December 2020, it has introduced its worth in group voice chat too. Here, any group chat can become a voice room that also includes text chat and regular media file sharing.
While using a Telegram voice messaging app, you don't have to stay around all the time, instead can check other chats and send messages. Further adding for Android users, you can also move your voice chat to any floating widget with ease as per your comfort. Telegram does not restrict the limit on the number of voice chat users, instead it creates a barrier on the role of "listener" and "speaker," with no option of recording and saving of data.
4. TeamSpeak "Bring Users Together on Chat Channel"
Teamspeak (TS) is a VoIP communication app that was founded in 2001. It is one of the best choices for online gaming. Teamspeak uses the most high-quality sound for group calling and is available with a high-end security with almost very minimal performance issues.
Here, it's cloud infrastructure allows its users to have their data to synchronize their settings across any mobile and web app. Moreover, this Teamspeak app provides over 100+ add-on, skins and voice packs to experience the best outcome.
Well, after having some general understanding about these voice chat apps via, some of their leading online apps technology. Let's move on further with some of the exclusive features of these voice chat apps in the upcoming section.
Key Features & Functionalities of Voice Chat App
Nowadays, voice chat service has become one among the essential needs of people mainly for their robust features and functionalities. Here, we are going to have a look at some of the most essential functionalities that any audio calling app must have, to become an appealing communication source for their audiences.
10 Key Steps Before Create a Voice Chat App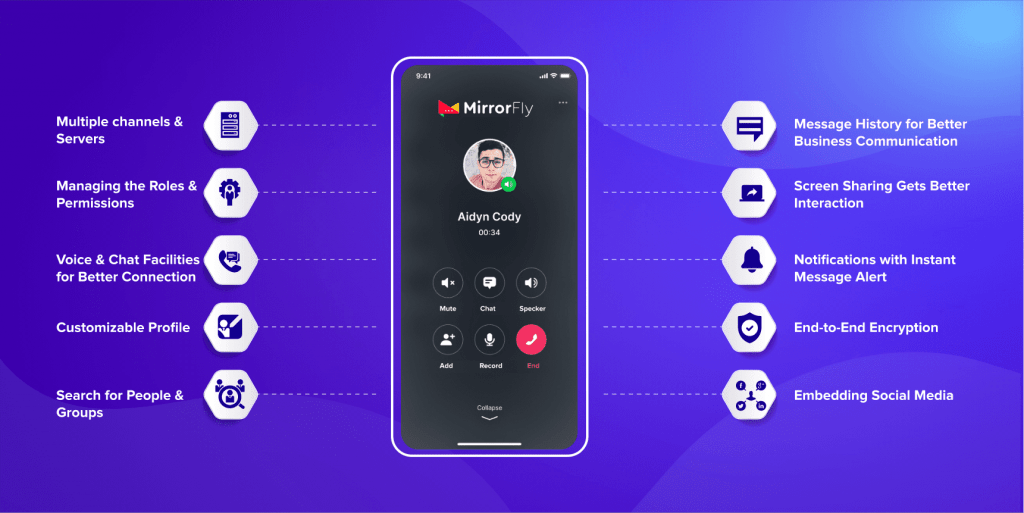 Let's talk about some of these features and functionalities based on Discord,
1. Multiple Channels and Servers
Servers and channels play their role when it comes to building communities. This is so as it is not possible to have a separate space for every individual with regards to topics, projects, etc., to have a discussion.
Therefore, Discord allows their users to have a limited creation of a number of channels that are something like subgroups for servers and participants. Wherein, you can go ahead and have your chat in your community if needed, when the server does not address your needs. Once, you have created the same, the admin will be accessed to,
Can create voice and text channels
Instruct the users about their role
Invite friend and others to join the server
Can perform changes with the verification settings to avoid duplicate account creation
Transfer all the authority to another account
2. Managing the Roles and Permissions
As have already been discussed, the admins have complete control over the roles and permissions. They can assign a variety of roles to the server and channel members by making changes in every channel's settings.
Discord allows their users with some basic permission wherein they can have personalized experience with their servers and channels with more than 30 permission options that they can combine and make use of at their comfort. This is one of the major flexibility that Discord provides with management. These basic permissions involves,
General permissions
Text permissions
Voice permissions
3. Voice and Chat Functionalities for Better Connection
Although Discord mainly focuses on voice communication it does provide access to text messaging, as one of the basic app's functionality. Here, you can make your interaction more valid and accountable with the usage of both voice and chat facility.
Since, Discord is built with an open-source project with WebRTC, you can experience the high-end quality in your voice and video. Moreover, it also opens up the path to file sharing that includes documents, images, emojis, etc.
4. Customizable Profile
Creating a user profile is the foremost step for any user to get into any group voice chat app. That too when it is with the option of customization, the user is more comfortable at their pace. This option lets the user customize their user profile across the iOS, Android and web app wherein the user can add the integral information like name, nick name, picture, a short bio, etc., with the support of voice chat app's tutorial for better user experience.
The user can also provide their other social media handles to get connected to their circle but it's an added option. Moreover, instead of creating a separate profile, the user can also sign-up into any voice chat application using their other web based social media platforms with which the voice chat app can directly access all their social media contacts through the app itself.
5. Search for People & Groups
Whatever be the designing of your voice chat app, some of the features are meant to be as default, and the "search" features lie into that criteria. Here, the search dialog and the widget implemented in the user interface can deliver the user's search query to perform any specific search activity whether it's about people or groups despite the device.
This is the simple way for the user to get into the appropriate place immediately without wasting time by making a move across the entire page. Moreover, this option simplifies the entire process for better user experience within their audio calling app.
6. Message History for Better Business Communication
Most of the apps provide the text and voice chat option but will automatically delete the old message once it reaches a certain limit. But, this is not the case with Discord's message history.
It provides a special space that allows these personal as well as business conversations to be stored on cloud/premises from where the data can be retrieved at the user's comfort. Thus, Discord makes these old messages to be a source of valuable information, and analyzing them in need by bringing more understanding into any business communication.
7. Screen Sharing Gets Better Interaction
Enabling the way to have more interactive communication is what this screen sharing feature does in Discord. While gaming or watching movies, this feature add-up more fun to the environment. But, when it comes to business it supports voice chat communication with more screen sharing including document, images, etc., in a single call.
Moreover, this feature offers the capability to make notes on the share screen when shared with other participants. This will be very useful if you are planning to create a niche app for any editing purpose.
For instance, here the other participants can make corrections on the screen by offering their ideas which will make the communication more efficient avoiding the need of multiple editorial calls
8. Notifications with Instant Message Alert
These notifications with alters connect the users regularly making them to think over their next prioritized task. Mostly, they convey the users about the upcoming events, reviews, meetings, etc., instantly and retain the connectivity.
Moreover, these notifications and alerts enable many more extra features that includes,
Mute all notifications
Mute notifications for a specific chat or channel
Mute the notification for some time
Notify the users that you want them to be notified, and much more.
9. End-to-End Encryption
Everybody demands protection no matter whether it's with a voice call app or something else. With real-time communication the security is the major concern for people as here the leakage of conversations can drive into a huge loss almost beyond expectations.
Thus, these voice chat service providers look keen about security measures. They mostly prefer end-to-end encryption with standard protocol intended to prevent the loss of data in all possible manner. Here within the voice chat app, the data is kept secured throughout the process starting from delivery to receipt of chat conversation at the recipient's end using multiple layers of protection. The specialty over here is that these security measures will not even allow the in-between person to view the data.
10. Embedding Social Media
As Discord consists of public servers they can be accessed by anyone, sometimes people may try to get connected outside the app too which might require another level of authentication. That's the reason why Discord has provided this feature of social media integration.
Most of the chat apps provide access to get connected through two to four social media options, it's the Discord that provides more than anyone else.
Let's have a look at some,
Facebook
Twitter
Spotify
Steam
Reddit
Xbox Live
GitHub
Twitch
YouTube
Battle.net
However, the above features and functionalities are as per Discord, but they do differ for the rest of the apps too. But, almost all the apps will have these features with some ups and downs in functionalities.
Now, let's move on to the main desired section as the key steps to be followed while building a voice chat app.
How to Build A Voice Chat App – 4 Key Factors!
Now, when you get well aware of these voice chat services and it's reach among the people across the world. It's time for you to think of building your voice chat app.
Right! But, have you ever had a thought as to whether to build something from scratch or using APIs. Well, whatever be the case, this scenario itself requires a lot of research.
Thus, directly jumping into the core topic I feel it's better to get you some market research in general with some key factors. This will clarify your doubts concerning the development process before making some decision.
Let's proceed,
4 Major Steps in Audio Chat App Development
1. Market Research "A Complete Study"
It's not about building a voice chat app, market research is the key investment any business needs to make before a start to have a smooth growth. This process will help you to understand your target audience, their pain and needs, also will get you more about your competitors, and of course, about the niches that you need to build a better future solution.
2. Hiring an Appropriate Developers Team "The Strong Basement"
Once you are done with the market research, it's time to look for the perfect tech team to work with. If you already have a team of skilled developers then it's fine, else instead of opting developers as full-time employees, it's always better and most cost effective to go on with hiring them for your project.
3. Create a MVP "Main Decision Making Point with Investment
MVP or The Minimum Viable Product talks about the most essential part of the entire process. It is there to make you understand the core to hit your target audience. MVP is all about actual products with the most viable and valid functions that allows you to decide whether to continue investing in product development or not, based on many criteria including market's reaction.
4. Testing & Launch "A Final Step"
The utmost step of the entire process which can make your app to be recognized in the market. Here, to have the better outcome mostly the survey will be conducted with the end users. This is to have a clear vision of the outcome as depending upon the users feedback, the further enhancement of the project will happen. Once done with this there comes the market launch to explore, connect, and generate revenue.
Well, these are the most important steps that must be taken into consideration for sure. But, the development is all about the back end process. Yes! The real time tech stacks that work smartly to grab the market.
After all this great research in all possible terms, let's move forward with the main section, and talk about the core differences between – building a voice chat app with APIs is better or starting from scratch would be the great choice.
Ready to Build Your Own Voice Chat App for Your Business!
Tech Stack, the Core Behind Every Successful Voice Chat App!
It's the technology or the tech stack, the main reason behind the success of any voice chat app.
Yes! They are the backbone of any project that decides the way to build these voice chat apps despite the project's complexities concerning features and functionalities.
Let's have a look at the technical stacks that are used to build a real time voice chat app.
Android & iOS App
Programming Language: Kotlin
iOS – Swift
Networking: Retrofit 2,
OkHttp 3
Database: Room, Anko SQLite
JSON parsing: Gson, Jackson
Image caching: Glide
iOS App
Programming Language:
Swift
Networking:
Alamofire
Back-End Development
Programming Language:
JavaScript, Node.js
Framework:
Express 4
Database — MySQL
API Documentation:
Swagger
Infrastructure:
MirrorFly
Third-Party Services
Storage: Amazon S3
Real-time Engine: Socket.io
Push Notifications for iOS: APNS
Push Notifications for Android: FCM
Build Voice Chat App, What's Best Choice :
Scratch vs. Readymade
Whatever be the case, when it comes to "build your voice chat app", it's the core responsibility of a developer to look out for all possible ways.
Therefore, before making a choice to build a voice chat app using APIs or starting something from scratch – I think it will be a better approach if we look on and compare some of the major key notes to have a better understanding to proceed further.
1. Time Frame
It's always a big deal to finalize the cost and timeframe to build any voice chat app. This is because the length of the time differs depending upon a variety of factors.
Mostly, if you have to go for something from scratch, you have to consider so many factors like,
Need to hire an appropriate team of developers
Look out for the infrastructure cost
Work on each and every coding to build the better backend
However, they seem to be simple but will consume a lot of time that will have a great impact of increase in cost as well as with time consumption.
But, if you opt for a ready-made voice chat APIs to build your app, then you don't require anything other than your in-house team. This is so as if you don't have your in-house team then you can proceed with the further integration process using the provided UI Kits itself. This ready-made APIs integration process will not take months but simple countable days. Moreover, these voice API providers do provide complete developers support till deployment. So, you can be stress free.
2. Pricing – Readymade (Both SaaS & SaaP Platform)
We all know that when you are planning to build your voice chat app, the pricing is something that talks about every aspect of the development. The scenario differs for both ,
Exactly! If you are planning to build something from scratch, you have to prepare an estimation depending upon certain things like,
Look out for better infrastructure
Spending on resources
Hiring skilled developers, etc.
However, it's a known fact that the overall cost at the end will of course be more than expected.
But, this is not the case with ready-made APIs when planning to build a voice chat app.
Well, before getting into the details let me tell you that these voice chat API and SDK providers offer their solution in two possible ways – One time license cost and monthly subscription plan. Let's have a look in detail,
1. One Time License Cost – This is the pricing scenario that is based on SaaP model wherein, you have to make a one time payment to have all your desired features for lifetime. Moreover, you can add up your required features too with custom feature options whenever needed as per your business requirement. This SaaP model allows you to have complete ownership of your app.
2. Monthly Subscription – This pricing scenario is based on the SaaS model that supports the "pay-as-you-go" concept wherein, you can use your desired APIs for a month and pay as a monthly subscription amount. But, in this case you will not have any control over your app, it's the API and SDK providers who own the admin power. Thus, in case of any issues you have to approach them directly via their customer service support team.
Now, after a deep understanding on the core differences about building from scratch or using APIs, what's the best. Let's have some insight on how these voice chat apps have influenced a variety of industries.
Impact of Voice Chat Apps on a Variety of Industries
When it comes to industries, these chat, video and voice chat apps have made a substantial impact on almost all the industries, from healthcare to online education, or can say, none of them have been left apart globally.
These real time voice chat apps for enterprises have always proven to be a supportive hand when it comes to serving the business by contributing to its success.
Let's have a look at some of the industries.
1. Healthcare Industry
The most easy and reliable way that connects the doctor and patient are these real time communication APIs and SDKs with voice, chat and video calling. Here, communication is the key in every single stage whether it's about scheduling appointments, having a regular check-up, or sharing medical documents like diagnostic reports, images, video/audio files, etc.
These real time messaging, voice and video chat app services have made communication possible and easy by ensuring HIPAA compliance.
2. Online Food Ordering and Delivery Industry
Online food ordering industry falls under the category of on-demand industry. Today, this industry is booming to the core with its non-stoppable service because of these voice chat apps. This industry is utilizing these real time communication apps as a default supportive system to connect to their customers every single day.
Here, these voice chat apps play their role until the customers receive their ordered item. Moreover, it helps their customers to have a track of their ordered food with exact location tracking until they receive them.
3. E-commerce Industry
Unlike the food industry, even e-commerce or online shopping falls under the on-demand category. This is mainly because nowadays, people feel more comfortable shopping online instead of visiting the shops directly.
These real time voice chat apps are the real time chat for retailer brand engagement wherein, they have cleared the way by connecting the retailers and the customer on the same page. Moreover, these audio calling apps have also made a secure pathway for shipping and payment ensuring end-to-end encryption by tracking the items.
4. E-learning Industry
E-learning! The new trend that has transformed the traditional way of education into an interactive and fun learning experience. Here, these real time messaging APIs and SDKs connect the students and teachers globally wherein, the students can have direct interaction with crystal clear voice quality, allowing file sharing option during their online sessions.
Coming to the end of the section, I hope that now you would have obtained a clear vision as to why it is important to create your voice chat app.
Now, it's up to you to decide depending upon the above mentioned key factors whether you want to go on with building something from scratch or using the real time voice chat APIs.
Whatever be your decision, It's always better to have some research from your end too for better clarity on the concept.
Finally, if you still think that you need assistance in moving forward then let me tell you that we "The CONTUS MirrorFly" being in the field of real time communication API and SDK providers for decades, have assisted so many industries worldwide in building their voice chat app with easy integration of our in-app voice calling APIs and SDKs into any existing android or web app.
Thus, feel free to contact us for further guidance to move forward to build your own voice chat app. We are there to assist you with all your needs!
Thank You with Good Luck!
Explore Secure Call Experiences Using Our Scalable Voice APIs
Frequently Asked Questions (FAQ)