Content + Concept = Channel
The Context itself elucidate the nature of online web streaming television. The revolution of traditional network and cable is slowly shrinking as an iceberg. A new renovation of television is arising to transform the conventional viewing of TV channels to another medium.
The Online TV channel is flourishing the entire entertainment into a wider range through delivering television programs on the Internet. This new technology of Web Television broadcasting has been a treasure trove for some content creators to purloin some pieces of money that have been spent on cable broadcast.
On accounting of the over-the-top platforms that urge to create online TV channels which have the potentiality to thrive the business for content creators through websites and mobile applications. The transformation of different sizes of screen and platforms abruptly increases the opportunity for aspiring business professionals to arise question like "How to start an online tv channel". To assist those aspirants, let's get into the evolving web television's development and the technology stacks used to set up an online tv channel in deeper.
Before digging deeper, let us get the thorough checklist required to initiate the process of creating your own online tv channel that considered as a gimmick to trigger your Professional Web Television Broadcasting Business.
Checklist Required in Creating Online tv Channel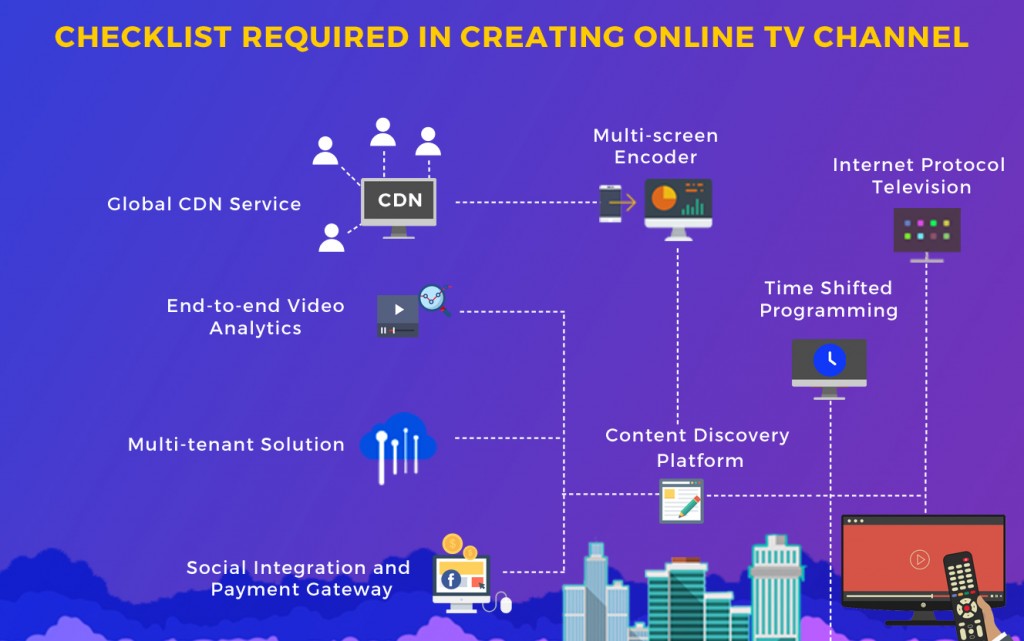 Internet Protocol Television:
IPTV is one of the commonly used technology to deliver TV programs and videos over the connection of internet similarly a broadband internet connection. Through IPTV, digital television service is delivered either live or video on demand and it also has the potential to provide a combined set of content that consumer selects will be delivered.
Time Shifted Programming:
This is also a combination of IPTV which is used to broadcast the programs at different times normal to other. Time shifting is a programming to a storage acts as a medium for viewing or watch after the live broadcasting. The time-shifted Programming plays a kind of crucial role to initiate on setting up your own online tv channel.
Global CDN Service:
A Global Content Delivery Network assist in the distribution of the video content geographically to the end users a high pixel rate and at dynamic performance. Cloud-based CDN's establishes Content at a flexible medium for web applications and the deliver maximum level of protection by preventing the loss from hackers through filtering the traffic signals on global networks.
Content Discovery Platform:
A Powerful content discovery platform utilizes the implementation of recommendation software to deliver personalized content any sort of platform ranging from Mobile application to Set-top-boxes. The Content discovery platform uses the metadata to discover and recommend the appropriate by minimizing the development and maintenance cost.
End-to-end Video Analytics:
A clear analytical report is a key success to distribute the content over multiple platforms globally. An advanced video analyzer would be the key tool to a whole content library and its flow over the devices at a real-time.
Social Integration and Payment Gateway:
An effective integration on social media platform magnifies the outstretch of the video content on multiple platforms which in result doubles the rate of users globally and also enhances this lucrative online tv channel business. Another major feature to be implemented on online TV platform is Payment Gateway which is highly appreciated to support the subscription-based viewers.
Multi-screen Encoder:
A high-performing multi-screen encoder seamlessly delivers video at a high pixel-rate without any buffering. A robust encoding and transcoding options enhance the upload of videos and streaming of the content directly to the appropriate format. This relatively increases the chances to set up an online tv channel which customizes the resolution recommended by the user.
Multi-tenant Solution:
A Multi-tenant is a cloud-based storage for the content in a secure and flexible way. This assist in redefining the infrastructure of the existing content resource platform and also maximizing the storage capacity.
Now, you have a complete understanding of the components required to launch your online tv channel. Apart from the components that relatively utilized to build online TV, have you wondered what are the technologies that have been used to build that superlative Web TV Channel service platform?
The Advanced Technology Stack that Drives Awe-inspiring Online TV Channel
Synchronized Multimedia Integration Language (SMIL):
SMIL is a World Wide Web Consortium recommended Extensible Markup Language, simply an XML used to describe the whole multimedia presentation such as animation, visual transition and Media embedding. To be simple, it allows the application developers to easily synchronize and define the multimedia presentations like Video, Audio and Images.
Real-time Streaming Protocol (RTSP):
RTSP is simply a network control protocol specially designed in such a way for Entertainment media servers. This application-level network communication system assists in transferring and controlling the real-time date from a multimedia server to an appropriate endpoint device or client-server with help of a streaming server.
Rich Site Summary (RSS):
RSS refers to "Really Simple Syndication or Rich Site Summary assist in updating the delivery of the content in a standardized system readable format or streaming text files. It helps in quickly adapting to a particular image, video format to easily uploading on multiple feed readers.
WTVML:
It is a Wireless Markup Language derived Content format used for Web application developers to deploy Interactive TV Channel services in a minimal process timing and potential to contrive a large number of devices. The format is also capable to validate the content automatically followed by test and transformation of the format.
Well, the technologies that are used in developing a peerless online tv channel is amazing right! Isn't? And Now you will have to get ready to sight some glimpses that you can reap some pieces of money from this lucrative Web TV Channel Services.
All right! Monetization Models is the money minting hallmark that you can possess with this online tv channel.
As the viewing of Video is shifting from Desktop view to Mobile View, the methods of enhancing this lucrative online tv channel business also primarily balloons. The streaming of content over the online TV channel trend is wholly practiced globally to ensure the income through a diverse Monetization option such as Advertising, Pay Per View Events, Video On demand, Monthly Subscriptions and Much More features across the platforms.
Bottomline:
The Online TV revolution is taking place to create massive impact in the streaming industry, Content Owners and Business Professionals should make a closer look to trigger their lucrative business by partnering with some world-class video on demand solution providers who can make your splendid Online TV Channel with engaging technologies and Features that befits to this modern streaming Industry.