The total Global revenue of "Music Streaming" segment values to US $11,439m in 2018 and expected to arise around US $14,786m by 2022
No wonder why the music streaming industry is revolutionizing? Since the music companies/bands are apparently seeking to invest in the music streaming industry across the globe which in result to acquire profitable revenue. However, the craze over the music is a perpetual process where the majority of music listeners are constantly are on music applications to enjoy the rhythm in their headphones just within a matter of clicks.
Certainly, the growth of music listeners auditory is progressively transforming into Music Consumer Market. This has directed to mushroom some global music application giants like Spotify, SoundCloud etc. These promising facts are the reasons that tempt every aspiring professional to build a music streaming website/app just alike Spotify. Before getting into the action of creating your own music streaming app, let us take a look on who actually ruling the overflowing music streaming market.
So how to create digital music streaming application of your own?
No secret that what actually Spotify brings to you, cuz it has millions of music at its pack. The streaming service provides innumerable music tracks where there is no cost for a certain limit of music tracks. This digital cross-platform music streaming platform has approx 70 million paying subscribers globally which generated a revenue of about 4.09 billion euros.
Spotify – The Platform that Redefined Music
Spotify is a music streaming app that not only has a humongous number of users, but it also earns a whopping 70 million dollars via global subscribers. The features Spotify has adorned itself with is so smoothly compatible with its algorithm that it delivers 1000s of music tracks on any given instant, on a global scale.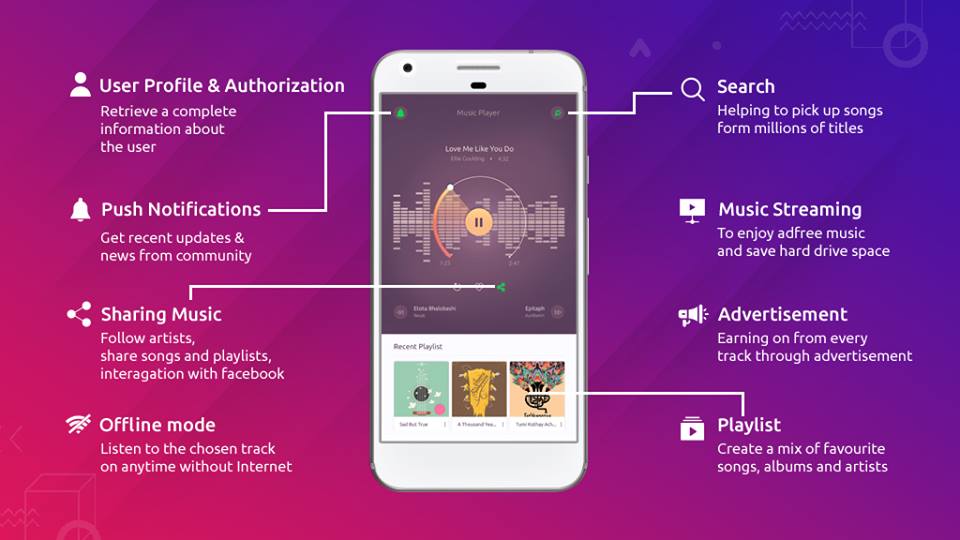 Registration & Social Login:
Accessing the most loaded music streaming platform is simple as you think, with all the personalization and base informations, registration on the platform is free and convenient through social media networks for further subscriptions.
User Profile & Authorisation:
Embedded with endpoints to retrieve a complete information about the user's profile and authorisation of every user with the user's similar database such as email address, Password etc. to minimize spam interferes.
Audio Streaming:
An interesting feature that allows the user's to stay-up-to-date on the recent release of blockbuster tracks. User can listen on the latest album at anytime on different music tracks.
Effective Search Tab & Organization:
A Personalized platform to manage every track on the user specific taste for an effective comfort zone. User can discover upto n number of tracks and pinpoint the favourites.
Playlist:
Listening of most liked tracks endlessly through managing user's entire playlist by saving and editing the tracks through online or offline mode.
Download:
Listening to the chosen track on anytime without the use of Internet is applicable through offline availability – downloading on any devices.
Advertisement:
Earning on for every track is applicable through advertisement by offering banners or videos which is certainly the key for Spotify to magnify the revenue.
Push Notification:
A must feature to connect users with the application in order to get the most out of recent updates form Artist, Community and Friends on the application circle.
Invite Friends:
Let your friends listen your favourite tracks by inviting your friends circle from Social Media or Email Address to enjoy every tracks on the list.
Song Writer Profile:
An appreciating feature which assist in rewarding every lyricist that add extra bonus of credits and encouragement and also to discover the who produced your favorite music.

A Surprisingly Good Way to Build Your Music Streaming Website
There are thousands of music streaming platforms are available in the market but only a little number of streaming service providers make their journey to reap a huge revenue, thus such music streaming application are built only by reputed service providers through implementing next-gen technologies and strategies. Relying on reputed music streaming solution providers are the key act to start your own music streaming service.
Introducing Contus Vplay, dominant player in providing customizable music streaming solutions globally. Contus Vplay known for its technology in delivering a complete peerless music streaming service.
What Makes Contus Vplay to Stand out in the Crowded Music Streaming Market?
Surpassing Technology Stack at its Core:
Contus Vplay is predominantly equipped with advanced technologies such as PVNS, QTSS for streaming servers, HLS and RTMP protocols for broadcasting the music tracks, AWS, Minio and Azure Storage for a end-to-end scalability and some data management tools to magnify the flow of streaming tracks and also to deliver the best of music broadcasting experience to the users on all the platforms.
Memory Cache:
Most of the listeners are not aware of the memory cache where Contus Vplay uses a specific area of your system to hold the latest data processing that is downloaded from the web or from nearby spotify user as quick as it can. This processing can enhance the music listening experience through delivering flawless music streaming capability without any buffering. Spotify' music streaming tracks are positioned on different locations thus to minimize the database of the streaming. To put it simple, It takes a huge number of processings to stream a particular music track from the millions of server.
Cloud Storage:
Contus Vplay is in built with Amazon Cloud Storage in order to provide a endless scalability to store, manage and broadcast every music track to the right audience.
In-app Dialogues:
A real-time chat functionality to share your views with the friends within the music streaming app triggered with image/text sharing functionalities.
Reliable Music Player:
CAn ideal HTML5 player embedded with adaptive bitrate streaming possibility to deliver high-quality audio streaming with startling features that performs on multiple platforms.
Social Sharing:
A intuitive platform to share your most-liked tracks, playlist with friends privately or publicly and also to view on what your connection shares.
Partner Portal:
Club with your favorite creators! Contus Vplay offers eye-popping partnership schemes where external/independent creators can stream on your audio streaming platform. Go for a win-win

The Monetization Modules that Contus Vplay Offers to Trigger Your Revenue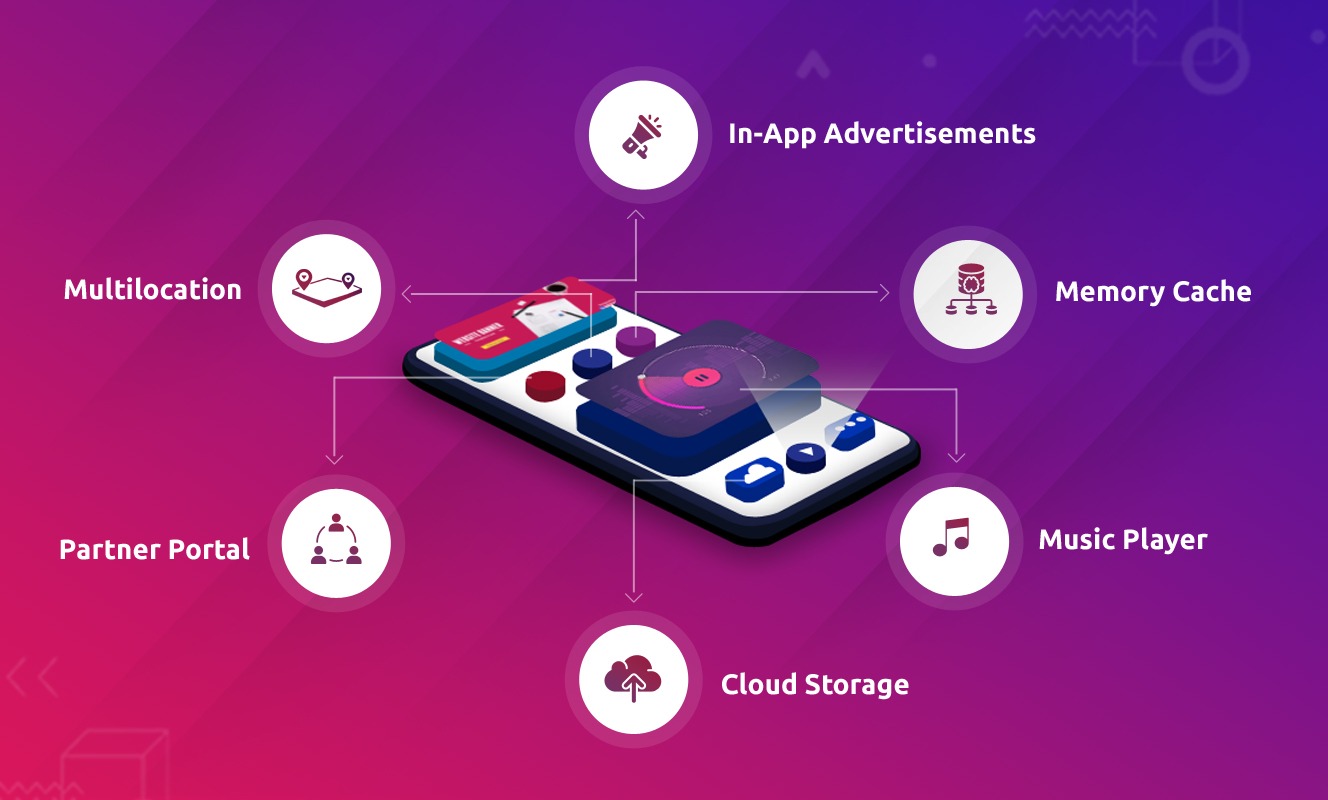 In-app Advertisement:
Run unlimited advertisements in the form of Images or Videos in between the streaming tracks to aggrandize your revenue based on the number of users converted through the advertisement.
Premium Monetization Model:
Reap money for every blockbuster music track or a specific content through applying premium subscription which allows user to get access certain music only through subscription.
So, Finally How much it cost to build a Music Streaming App/Website?
To put it in simple, On determining the potential features and customization, the cost wholly differs. Every other music streaming solution providers apparently charge for the complexities involved in bringing the application but Contus Vplay estimates the cost based on the Cloud Storage Cost and music streaming licensing.
Bottom line:
The accomplishment of every other music streaming website utterly depends on the technologies and the features that perform as the key role in generating revenue. Contus Vplay has that potentiality and follows the agile process to bring your next-generation music streaming on every device globally. We urge the latest technology in the right logical pattern and upgradable features to put your music streaming website updated for modern streaming services.