Today the world's current events has hastened telemedicine's growth, which is making the technology stay and continue further to reach the popularity as ever before with much improved functionalities.
Since it's a new way to connect patients with healthcare providers having very fewer in-person visits, this aspect of telemedicine apps has grabbed the interest of many developers to build their own application.
Knowing about the search of these thirsty developers to create a telemedicine app, here presented a detailed post focusing on every related aspect with features, cost and other issues as a guidance to build an app for telemedicine.
Before getting started, let's have a look at a brief overview of telemedicine software development.
A Brief Introduction About Telemedicine App Development
"Telemedicine App : The future of healthcare Industry"
If you want to develop a telemedicine app then it's a must for you to know what is telemedicine app? Well, as an answer to your question, the term telemedicine is defined as "an electronic information and telecommunication technologies that supports long-distance clinical health care, professional and patient health-related education, health administration, and public health.
This modern digital healthcare chat app technology is facilitated via video conferencing and text messaging, where communication and exchange of information like electronic prescriptions by viewing the health records, is done with the support of the internet.
When it comes to patients, this is the best way to access healthcare regardless of their location. For a healthcare provider, this is an appropriate way to provide care and prevention strategies. But, even in general there are numerous telehealth benefits and advantages concerning healthcare industries.
Let's get to know more when it comes to the benefits that the patient and the doctor get out of this telemedicine app features usage.
List of Telemedicine App Benefits for Patient
"It's patient's time to see the doctor of their choice at their comfort"
A recent survey shows that about 41% of Americans are telehealth users, and the reason behind this is mainly because they were able to speak to any provider of their choice simply by sitting at their comfort of home. Apart from that concerning today's current situation telemedicine is the essential need to survive through the crisis.
Therefore, now let's have a look at some of the more benefits that attract the patients.
Improving the Accessibility of Healthcare –Today telemedicine app development has removed the barrier for both patient and healthcare providers. Now, with exclusive telehealth features the healthcare industry is more accessible to many people as it can be used to facilitate surgery remotely.
Reduces the Cost of Medical Services –Compared to the regular treatment with an in-person visit to doctors, this telemedicine app for doctors is found to be more cost-efficient. It is mostly appreciated by the patient as in the current pandemic situation, many healthcare organizations are offering telehealth packages, making the app more cost effective for the patient.
Improving the virtue of Healthcare –A study shows that almost 60% of patients are not expected to be with their doctor for the long term. This is so as the patient makes a continuous use of health devices to monitor their health that reduces the doctor's need for the patient's health check up.
Best Prevention –However, today healthcare mainly provides treatment to the patient depending upon their current medical conditions. But, this is not the case with telemedicine apps, as it allows the patients to have remote monitoring depending upon their pre-existing health conditions and educate them accordingly as it has all the information stored in it.
List of Telemedicine App Benefits for Doctor
"Best way ever found for doctors to educate the remote patient"
When it comes to doctor's benefits with regards to the usage and features of telemedicine apps there are many
High-end Security – Mostly in terms of security measures in healthcare sectors, it has not been focused much as a priority. As a result, now the new technology of telemedicine apps mainly focuses on high-end security to protect the stored patient data like medical records, images, etc.

More Flexibility for Healthcare Staff – It's a well known fact that there is no specific timing for doctors to work on. Even these days, most of the doctors spend around 30% of their time treating patients. And the remaining time of 40-50 weekly hrs on managing their hospital's administration and document tasks. This technology has mostly benefited the doctors who are working outside the traditional hospital setting, all this with automatic billing, call recording and transcription, eRx, etc. allowing them to focus on treatment.

An Easy Access to Patient – Mostly in case of remote patients, the telemedicine app is more accessible to the patient around the world than ever before, thus it has broadened the targeted audience.
Now, let's have a deep dive into the top features of this best telemedicine platform in our next section
Telemedicine App : Top Features & Functionality
" Let's collect the grace from exotic Features of telemedicine"
Unlike every other wellness application, even telemedicine has some specific features that makes it a unique one for healthcare.
Let's have a Look a Some of the Key Telemedicine App Features
1.User Profile – A user profile is the one that displays user's information like picture, gender, education, location, phone number, etc. Once these information are obtained the user profile will be created and the further medical history of the patient will be maintained.

2.Patient mobile or web panel – Mostly, this feature will have all the details about the doctor's and their specialties, patient's end-to-end medical detail, etc. When it comes to doctor's details, whenever the patient needs a treatment they can communicate with their preferred doctors and pursue the treatment. Moreover, if the doctor needs to have a check with all the patient's medical documents, can simply get it from the panel.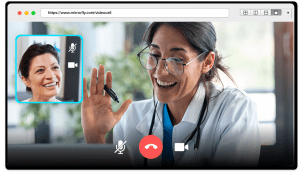 3. Tracking Location – Find the user's location is very useful as they can get to know about the nearby pharmacies and hospitals, even can get directions and set the arrival time too.

4.Variety of Ways in Communication – The best communication can support the best treatment. With this feature the patient can communicate with the doctor via in-app chat option, in-app calling, and live video call sessions. All these enable the patient to share audio and video files, images, screen sharing, etc.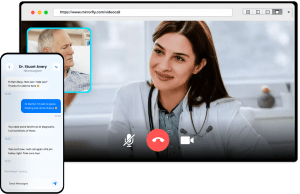 5.Electronic Medical Records (EMR) – The integration of EMR in a telemedicine app development can allow the user to have a flexible workflow, accessibility to all the services, and usability of the entire software. EMR helps in handling the security related issues.
6.Remote patient monitoring (RPM) – RPM benefits both patient and doctor. This involves maintaining pregnancy records with guiding the maternity program or managing chronic conditions.
7.Simple Symptoms Checker – One of the most extraordinary programs that helps the patients to identify their current health condition is by making a note of their symptoms. Based on this data, patients can communicate with the doctor.
8.Variety of payment modes – As everybody prefers a variety of modes in making the payment. That includes credit card, coupons, employers coverage, and insurance (Medicare or Medicaid plans). This feature enables the user to select one among them to proceed with payment.
9.Scheduling Appointment – Fixing an appointment at your convenience is the best thing that anybody can have. With this feature, the patient can schedule an appointment with the doctor anytime without making an in-person visit and can sit at their comfort anywhere and get doctor's consultation.
Now, these are the key features of telemedicine, but what if you get to know more about the additional features, that can make more sense right?
Additional Telehealth Features can Create a Big Difference
"Great to have more insight about an app"
Whatever be the app whether a wellness app or a hipaa complaint chat api apart from their key features they must need some additional features that can make it unique and appreciable among the targeted audience.
Let's Have a Look at Some of these Addition Features

1.Group chat and group call functionality – Most of the time it so happens that there needs to be a group chat or group call among the patient and doctor; doctor and doctor; when one-to-one conversation is not enough. In such cases, the doctor can add nurses, technicians to have a detailed description about the patient's treatment, and other related issues.
2.Messaging with Cross-platform – Mostly, people feel uncomfortable to use the chat app since they won't be able to access it from a variety of cross-platforms. Enabling these features allows them to receive and send messages quickly in real-time across any web, iOS, and Android app.
3.Unlimited Channels – Create several unlimited open or private channels to get connected to your wide community via messaging, video at the same time, this is what you can experience with this feature.
4.Create Tabbed Messages – Now, you can modify any number of chats and even combine multiple chat messages into one single tag depending on preference, that can maximize the chat efficiency by reducing time consumption.
5.One-to-one and group voice calling – Where one-to-one refers to making a call to one particular person at a time, group call allows you to connect to a vast range of people at a time despite their geolocation.
6.Interactive Voice Response system (IVR) – Most of the time the customer gets frustrated by not being able to reach out to an agent. In such a case, this feature handles the customer calls through a human voice and directs the call to the suitable agent directly reducing the customers waiting time.
7.Video call recording – It is always better to have a track of the video call that you are having with your customers, clients, and agents. Enabling this feature also allows you to have video call recording with the edit option that can be stored and retrieved from the cloud whenever needed.
8.Sharing the screen – While on-going video conferencing calls, sometimes there might arise the need for screen sharing to share the information. This feature allows the same with multiple user's engagement concluding their satisfaction.
9.Great browser support – You can make an HD one-to-one or group video call that is compatible across the current versions of all browsers like Firefox, Opera, and Chrome.
10.Spam flood protection – While conversation it is very important to maintain a decent and polite manner while texting messages. This feature maintains a track of the conversations profanity with real-time filters, to have an intoxicated interaction.
Now, where this section is all about the features that can enhance an app. You might get an interest to know more about the technical part. Let's have a further look at it
Most Suitable and Reliable Tech Stack of Telemedicine App
"Tech stack – root behind great innovation"
For any app to reach out at its best, it has to be unique with its appearance, design, adaptability, and capability. Thus, tech stack plays the major role behind the screen.
Let's have a look at the most suitable and reliable technological stacks that are used in the telemedicine app.
Tech Stack of Telemedicine App:
Front-end development – React Native, ReactJS, VueJS, and NextJS (top frameworks)
Deployment – Netlify, Vercel and AWS S3
Design and prototyping – Ant Design and Bootstrap
Back-end development – NodeJS, Ruby on Rails, NestJS or ExpressJS
Third-Party Technologies and Tools –
Flexible search function – Elastic search and Algolia
Geolocation & GPS tracking – Google Maps
loud-based messaging – Firebase Cloud and Twilio
After tech stack there comes the main topic of this article as what needs to be focused when it comes to develop a telemedicine app.
Ready to Build Your Own Telemedicine App?
Things to be Noted While Creating a Telemedicine App
"Connects doctor and patient with high comfort"
Before planning to develop a telemedicine application you must be very clear with the initial blueprint or can say a checklist which includes all the major aspects that you might encounter during the development process. Let's see these key factors
1. Performing a Business Analysis – This is the fundamental stage which focuses on defining your target audience. Conducting a business analysis will let you know what their problems are and how your app can help them in resolving their issues? However, the development and workflow of your application differs as per the industry.
2. Perform a Market research including your competitors – With market research you can identify the trending telemedicine market leaders and latent competitors. Performing an in depth study of their strengths and weaknesses, ratings, and user reviews can get you detailed knowledge about their application. This analysis can help to have a better clarity about your planned app.
3. Prepare a Plan for your App Infrastructure – Once, done with all the market research and competitors analysis. Now, it's time for you to proceed with planning strategies for your telemedicine apps infrastructure. With the pain points of your target users you can figure out easily what are the needs for your application. This strategy can help you out with budget your telehealth software development.
4. User-Friendly UX/UI Design – Both UX/UI designs are a vital strand of developing your application that needs to be figured out before starting with the actual development. Broadly speaking, the patient always desires a simple interface which is easy to understand and navigate while connecting with a doctor. However, a smart telemedicine application will streamline booking appointments and making payments with a UI that is easy to navigate.
5. Project Management – For any app development project it is must to perform the task under the guidance of an organized project manager. The development stage is consist of the following:
Early planning refers to organizing the development process, team formation, and planning deadlines.
Development corresponds to the coding phase, where every project is keenly noted at each stage upon the delivering of versions concerning core features.
Quality assurance and UAT testing ensures the high-end quality, proper functioning and performance all at one stretch of the telemedicine application.
6. Optimize Marketing Channels – As soon as the telemedicine app development gets finalized, it's time for it to launch the market. Even after the completion of a project, the application needs updates and time to time maintenance, which has to be taken care of from the beginning. You can make use of user reviews to enhance your telemedicine app.
However, the above mentioned points are the basic one to build a successful consultation app. But, to find a perfect API and SDK provider to build your app is one of the most challenging tasks.
As while choosing you must be clear with certain queries as:
What is their market experience?
What's their outstanding features and specialties?
How much does it cost to implement telehealth?
Will they be knowing the importance of hipaa compliance in healthcare apps?
What about their security and scalability?, and much more.
Well, Let me get you the clarity with CONTUS MirrorFly as it could be a final answer to all your query. Let's have a look over this
To start with, "CONTUS MirrorFly" is one among the leading real time chat solutions which has over 10 years of field experience gaining the trust of over 40+ industries globally.
It has always been the developers best choice for so many unique reasons, one of them "one time license cost," Yes! The telemedicine cost is much more affordable comparatively as CONTUS provides the app with one time purchase cost instead of monthly subscription.
It's all about thinking of the pain points and desire to help the new startups and developing enterprises.
Let's explore some more of it's outstanding highlighted features that includes
100% customization
high-end scalability
HIPAA compatibility ensuring protection to PHI
SIP/VoIP calling
over 150+ chat features
self-hosting with on-premises and on-cloud infrastructure and much more.
These are some but there is a wide ocean behind to explain CONTUS MirrorFly.
But still, I believe that you must have got some idea pertaining to this article as to how and what do you need to develop a telemedicine app? and how CONTUS MirrorFly can help you to have your dream telemedicine app in reality?
So, furthermore, if you are interested in creating a telemedicine application for your business, feel free to contact us for guidance and clarity.
Thank You!
MirrorFly Chat Is An Easy-To-Integrate Solution That Enables High-Performing In-App Chat Services In Your Pre-Built Or Existing Apps.