Let's have a brief on video chat app features, text stack, coding, customization, third-party integration, hosting options, cost, etc…
Do you know that we absorb about 85% of the information visually from our surrounding world?
Yes! Generally, a visual perception sticks to the mind easily and stays for a longer period which is found to be an added advantage in any business growth. Thus, tracing the unhurried increase in the interest of video chat usage has created many entrepreneurs to build a live video chat app.
Yet, this is a good thing but still, the path is not easy as it seems to be. There is a need to unwind many things before building a live video chat app. This in turn is very necessary to understand when it's about the features and budget requirements.
Here, this post is all about guidance needed to build an android video chat app including features, tech stack, and of course monetization.
Best Video Chat App – Varities Speaks the Rest
When it comes to online video chat apps, it is something which is always a real time demand. So, it is an integral distinction that needed before moving on with building your own android video chat app.
Well, there are a variety of live video call apps and chat apps out there to choose depending upon your requirements. By purpose, these can be defined as
When it comes to online video chat apps, it is something which is always a real-time demand. Therefore, it is an integral distinction that needs to be made before moving on with building your own android video chat app.
1. Live Video Call Conferencing
Video Conferencing is the type of application that is meant to conduct a large meeting or seminar session which involves about 500 users.

Some of the industries that mainly use this video conferencing app include e-learning and social communities.

One of the major benefits of these video chat apps is that, it allows all the users to take part at once around the world.

These types of applications require a high quality of video and audio. Here, these apps get adjusted to the audio and video quality according to the internet speed.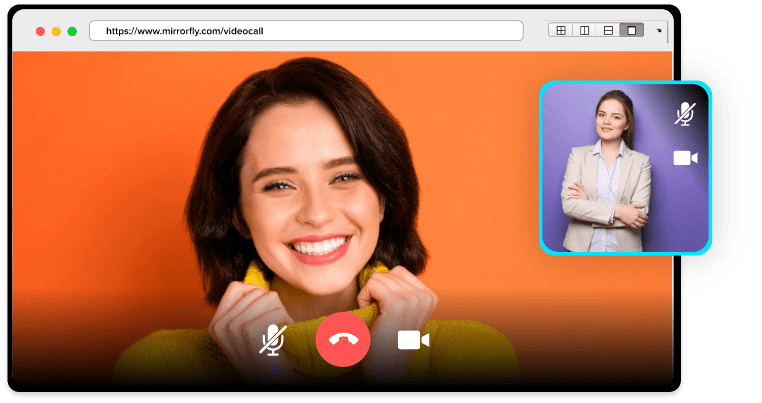 Every chat application does not have a video chat feature, but nowadays, most of the apps are available with this video calling API feature. Being an extra feature this has grabbed more of the user's engagement.

So, despite the fact of being used as an instant messenger alone, now they allow their users to make conference video calls to get engaged with each other.
This video conference calling feature operates with no time restriction and is completely free. But, since it's free to use, there is a limitation pertaining to the number of participants.
3. Social Entertainment Application
This type of application can be listed in an "all-time demand app."

Yes! It lets users get engaged in a huge number from anywhere, anytime. These apps include gaming, social event engagements, and more. Here, when users

connect via online they receive notifications from the other participants to join the party or game.

Now, let's move on to the process of building this exciting best live video chat app.
White Label Best Video Chat App Where You Have to Just Integrate the Needed APIs and Enjoy Your Own Brand
There are certain apps like telemedicine, e-learning, etc., that demand the integration of video chat features the most.
Thus now, let's have a check out on the major development steps that can get you to a successful video chat app.
1. UI/UX Design
UI/UX design specifies the appearance of the application that grabs the user engagement in the first place. So, remember that the more innovative and intuitive your front end is, the better would be the user engagement.
While building a UI it is must to have an eye on the usage of buttons in the menus, as more of them can simply make the visitor leave the page. Thus, your video chat app appearance must be in such a way that it moves along with the people of all ages with technical proficiency.
2. Backend Development
To build a backend there are several ways, but before that, you must understand that server logic is a foundation for any video chat app development. To build a video chat app you can make use of the APIs available in the market.

But, if you plan for something to build from scratch then you can be sure of more adaptability and flexibility with your app.

Of course, the time duration will be longer than expected. Yes, it will take time to come into reality which is not the case while using ready-made API integration.
3. Video Streaming Protocol Integration
To send a live video/audio call through a video call API for android is possible with the support of the WebRTC (Real-Time Communication) protocol. WebRTC is a secure protocol for video chat app

development. This protocol is major in use when it's about the

healthcare sector to build a HIPAA compliant video conferencing platform.
WebRTC protocol provides streaming, peering, and audio/video codecs features for interaction between users. In other words, it supports the exchange of data among the users that are willing to connect with each other. These WebRTC video chat apps allow the users to start a direct connection independent of the server.
4. Testing Stage
Once you have completed the

technical coding part, it's time to check for bugs.

This is so as these bugs lead to audio-video desync, failure of some features, or leakage of personal data.

Thus, it is necessary to maintain the quality with the assurance of testing at every stage.

Once the bugs are removed, the developers feedback will also be worked upon before moving forward with user feedback. All this is done to give an utmost user experience.
5. Supportive Team Formation
To develop any application, you'll need a team of dedicated and skilled software developers. Therefore, you can hire a team of in-house developers or else outsource your project.
Even here it depends upon whether your need is for the long term or short term. When it comes to your own team, you can have a face-to-face interaction and have full control over your video chat app development process.
However, for this you have to invest in infrastructure, recruitment process, and other related resources. Wherein, this is not the case with hiring a software development team. First of all, this will be much more cost effective with more work flexibility where the developers will be available around the clock to assist.
Well, if we want to count there might be some more to

it. But, the above discussed factors are the

key role players when it comes to the understanding of how to make a video chat web app. Now, let's move on with the features.
Features to Build a Best Video Chat App – The Most Powerful Tool
It is always better to create the best video chat app for android MVP (Minimum Viable Product) first to have an idea about the product. Let's have a look at some of the basic features to develop a video chat app.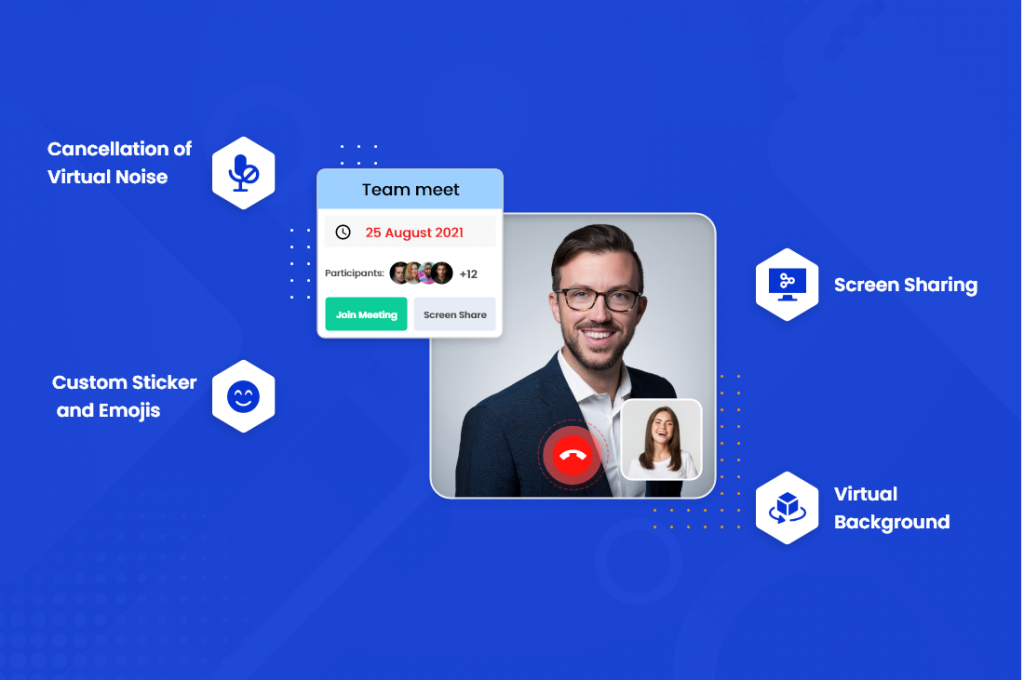 Registration

In some of the video chat platforms, the registration may be optional for users, but it is always better to have a registration as this will help you to re-enter into an app again easily.

Profile Management

However, it is always better to be a registered user by creating your profile with personal data such as name, email, password, etc. If your app offers a paid video subscription plan then you have to provide your payment details too.

Contact List

Well, building a video chat app without a contact list is unimaginable. Adding this feature with the user's phone book allows you to fill a contact list automatically by searching phone numbers in your system.

Video and Voice Calls

One of the most integral features for any video chat app development is video/voice calling. Yes! Of course there must be a voice call feature to accomplish any video chat app to the fullest. For instance, making a foreign calls is much more expensive which is now cheaper with these best live video chat apps.

Group Calls

Sometimes, users prefer to connect with people in groups via a live video chat room app. But, as per the audience-based need with strength, you can integrate this feature into your app and get connected with people globally.

Text Chat

Instead of always making a call, sometimes it's better to have the conversation by text messages. This is so when there is an issue with poor network coverage.

Creating a video chat app for android with text messaging APIs, allows you to have a safe, secure, and uninterrupted text conversation. Here, you can also share documents, which is an added feature being available for default.

End-to-end Encryption

Having a secure mode of conversation is something everybody desires for. A study shows that the people in the U.S select the video chat app depending upon their security assurance.

The encryption API allows the devices to encode and decode messages at both recipient and sender's end automatically. All this by ensuring security with protocols like AES-256 and HMAC-SHA256. In certain cases these security measures are more protected via multi-layered security protocols.
Viber "Utmost choice for International Users, Runner-up" –
Push Notification
A simple but one among the most powerful features that solves a load of user's issues. This feature notifies the users about new messages in the chat, missed calls, recent new updates, etc.
Where the above content gives you more awareness on the basic features, let's make a step towards some of the highlighted advanced features. Yes, the powerful role of them played in the entire story of creation.
"Experience the Great version of video chat app"
Even the advanced features have their own pace when it is about building a live video chat app for android and web app. some of the features covered in this sections are as follows
Screen Sharing
Having a live video conferencing chat app without a screen sharing feature, is quite unacceptable. Yes, today this powerful tool is everywhere around – tutorials, streaming games, watching movies, and more. It's used in both personal and business terms via video conferencing apps. With the help of the WebRTC protocol you can add this feature into the app.
Virtual Background
Well, the feature of virtual background sounds very simple but hilarious when planning to build a video chat app. But its purposes are remarkable and undeniable. Yes, it replaces the user's background with the images as per their choice highlighting the presentation. Moreover, this feature works well if the background is with a green screen but it also moves along with other colors.
Cancellation of Virtual Noise
Assume that when you are watching something interesting and you notice a background noise, it will be annoying and very irritating, right!
This feature now the engineers can separate a user's voice from the background, by suppressing the background noise with white noise.
Custom Stickers and Emojis
We have to accept the truth that always expressing the emotions via texting will not work enough. Thus, to express our emotions and fill in this gap we need some expressive and creative drawings or stickers or images.
Absolutely, you got it – Stickers and Emojis, the easiest way to express the words. Sounds amazing! Well, by adding a sticker or an emoji with the text, now one can express their feelings and sometimes situations too.
However, the major part of the voice chat app development is still hidden behind the bushes.
Of course the technical stack! Never too late to know!
Are you Planning to Create an Video App For Your Business?
"Rising Technology To Change Anybody's Perspective"
Of course, there are many options out there in the market, but it's important to have some knowledge about these tech stacks before making an approach.
Thus, always make a note on how these tech stacks should be chosen among many. Yet, this depends on feature's need that's required to build your video chat app.
However, till now we have covered almost everything that is needed to create an android video chat app. But, what if I say that you can also benefit with its monetization concept.
What happened? Sounds exciting!
But before that let's have a look at some of the best video chat apps for android for better exposure on these APIs and their demand in the current market.
This can get you a more detailed and clear understanding, and then will look at the monetization concept. So, just relax and continue..
" Deep dive into the world of Video Chat App for Android"
Video chat apps, the technology that lets you stay connected with people across the world, despite business or personal. At the same time, these video calling apps let you connect with dozens of people at once with no delay, no lag.
Moreover, it also allows you to record, store and share these moments for your ever reference. Well, after a much on its worth let's have a look at some of the top most market players for better knowing,
1. Signal Video Chat App – Best known for Privacy
Signal is a secure encrypted messaging app that's compatible with Android, iPad, iPhone, and web browsers. It provides end-to-end encryption for all chats and calls by using its most advanced proprietary protocols. With signal users can send one-to-one as well as group messages including voice notes, GIF images, and video files, and more. You can also make and receive voice/video calls with signals.
Signal also uses encrypted stickers during the conversation to make the session more interactive. The signal interface is set clean with no ads, trackers or data mining as the platform is supported only with the donation. Thus, these apps do not provide any flashy new features at times.
What's Good about Signal apps?
Provides super powerful secure encryption
Very simple, clean and user-friendly interface
No ads and any third-party data mining
What Needs to be modified?
Not as mainstream like other video chat apps
Does not support a few devices
2. Discord Video Chat App – Connects like minded players
Discord is a VoIP cum instant messaging platform that performs digital distribution among the platform. The people at discord can communicate via voice/video calls, text messaging, media files in person as well as in groups/communities. Discord works more and less like a hybrid of Reddit and Slack. Here, you can create a "server," that can be considered as a channel to focus on one specific topic. Moreover, you can invite people to join the server as this works as a chat room.
Since, the platform is especially created for gamers and tech enthusiasts, here they can create their own channel supporting their passions if needed. Apart from chat Discord also allows you to share your screen to have an exclusive group interaction somewhat like Twitch.
What's good about discord apps?
Enables great exclusivity when it is about invite-based servers
Provides an ultimate optimized screen sharing feature
Specially designed to invite for streaming sessions
Perfect place for gamers to connect
What needs to be modified?
A few features are perfect to be optimized on desktop version
Lesser flashy
Not much friendly with business perspective
3. Google Duo Video Chat App – All time need for a Gmail users
Google Duo provides the highest quality video calling app which is free and simple to use. They are compatible to work across Android, iPhones, tablets, and smart displays. It is designed as a friendly app aiming at a clean, no-nonsense video chat experience. Thus, keep things interesting at every stage. This app is easy to open if you use Gmail or Hangouts. This is so as it will take over your contacts without any trouble. Here, you can set group calls with up to 32 guests at once.
Apart from the normal functionalities, the app also gives importance to video calls. Yes, you can make short video messages and send them across via Google duo. It also allows you to take quick-shutter still photos of your calls, and you can also draw doodles on the top of the video calls, which is an added fun with graphics as masks.
What's Good about Google Duo apps?
Enables you to integrate new feature with ease
Permits to send video messages
Gives doodle masks for a fun touches
What needs to be modified?
Restricted to 32 participants
Hard to control for the non-tech-savvy
Not a business-friendly app, suits better for non-professional use.
4. BlueJeans Video Chat App – The Best for Business
BlueJeans is a mobile video conferencing app that allows the users to attend as well as host an interactive conference call. It engages people across the globe around any device like iPhone, iPad, or Android. BlueJeans creates a compelling choice with some better options for work-friendly video calls. Being partnered with Dolby voice, BlueJeans offers a crystal clear sound quality for any voice calls.
With BlueJeans you can have meetings with up to 200 participants accompanied with a high subscription level. It also provides a smart calendar sync functionality with a seamless option to do file sharing during any business meeting.
However, when it comes to the sign up system – there is a need to create an account. Here, the subscription amount starts with $10 per month, which can be a drawback.
What's Good about BlueJeans apps?
Partnered with Dolby it supports voice/audio
Enables unlimited file and calendar sharing
Over 200 participants can join in a meeting
What needs to be modified?
Need to be open a paid account to start meeting
It has a complicated UI for casual users
Not a good choice for non-business users
5. Viber Video Chat App – Utmost choice for International Users
Viber is a cross-platform Voice over IP and an instant messaging software application that suits any kind of devices like Android, iOS and web apps. When it is about text messaging with video calling, it has the capability to interact with up to 20 people at once. It is with a simple-to-use interface that is adaptable for anybody.
It provides an option to call or text real phone numbers, but that's not available for free, you have to pay and use it within the app. Moreover, its design is not that modern comparatively, that stands out for its brand, which might make it to step back among its competitors.
What's Good about Viber apps?
Easy to use interface to make calls
Permits up to 20 participants in a video call
Best choice for international users
What needs to be modified?
Need to pay extra for number based calls
The design does not fits the modern look
But, I think it's always better to have research in all the senses – it would be much more fine in many aspects. Now, if you think over MirrorFly in all these ways, you can find that it's one among the best video API platform providers to build a live video chat app.
Monetization Strategies with Live Video Chat App to Gain User Attention
"A simple Strategy to grab businesses"
What do you think if I say you can make money by building your live video chat app. In the first place, you might be like… – but the next moment you will ask how?
Well, there are many ways you can make money with, gaining your investor's love for your products too.
Let's have a look at some without a delay,
1. Advertisements "simple yet powerful"
But, I think it's always better to have research in all the senses – it would be much more fine in many aspects. Now, if you think over MirrorFly in all these ways, you can find that it's one among the best video API platform providers to build a live video chat app.
Instead, you can go ahead and display small promotional banners during the conversations. Even if you can place unskippable ads at the end of the call, your users might get annoyed with its frequent use, so have a check on that.
2. Paid Calls "Much better than Mobile Phone connection"
Have you ever faced a situation when you are in need to make a call via a cell phone, and the user is not available online to pick your call. Of course, you will get a thought to connect via a normal phone instead of carrying a phone with you.
But, the fact is that making a call via phone is much more expensive when it comes to foreign calls.
To tackle such situations you can make use of the online live video chat apps wherein you can connect with people of other land. These video calls will be chargeable but less expensive when compared to mobile calls.
3. Freemium "Less expensive for any group video call"
The name reveals that something is available for free!
Well don't have a thought that there is something as the best free live video chat app at your service. I am talking about "Freemium" – it's just the simplest concept of making something available for free to the users at the beginning. Yes, only at the early stage which is later converted into a premium upgraded version.
Typically, this is the concept where the developers give away the app's core features and functionalities for free at first and then demand a premium to use further.
It is the easiest way to grab the user's attention. Here, once the customer gets more involved with the group video chat apps, they prefer to get connected to a larger group of people via group video calling. Thus, will check out for the updated version which is of course available with premium package alone and will be less expensive too. So, for sure the user will go with the premium package.
4. Paid Stickers "easy money with creative stickers"
One of the most simple and the best ways to make money effortlessly is to create paid stickers. Absolutely, this is something which will be liked by everybody. These stickers can express the funny and creative part of any conversations.
So, simply by hiring an additional designer you can build your own creative emotions showing stickers and make money.
Well, wherein the all above sections have talked about the key steps and technologies behind building a video chat app.
Now, it is very much necessary to make a wise decision. But before that let's have a look upon "CONTUS MirrorFly" as why it could be your best interest when you are planning to create your own video chat app,
How MirrorFly can Support you to build a live video chat app?
"Let's Explore the difference!"
As the market is filled with gems and stones together, building a live video chat app is not an easy task thus, there are many chances to get deceived. So, it is very important to look for the one with great market experience with their goodwill.
CONTUS MirrorFly is one of the leading real-time chat solution providers with a developer-friendly live voice chat API & SDK. Their highlighted and outstanding features includes,
End-to-end customization

On-cloud and On-premises

High scalability

SIP/VoIP calling

Voice/Video call recording

High-end security, and much more.
However, the above covers are some highlights but behind the screen there are many to talk about. Foremost, CONTUS MirrorFly is the best real time communication APIs and SDKs with chat, video, and voice. In terms of features, it has around 150+ chat features that are highly flexible and reliable which can be easily integrated into any existing iOS, Android, and web app.
Now, I hope the entire article would make some sense to you with more clarity in terms of the market's best video chat apps. Of course, how to make your app to be the best one for monetization using perfect strategies to stand out. As, Of course every investor sees for the same – cherry on the cake.
So, If all these points with my review were making you think about building your live video chat app for android then i wish you the best to have a better start. Just feel free to contact us further if ever required a supportive hand to make a move. All the Best!
FREQUENTLY ASKED QUESTIONS
MirrorFly Video Chat Is An Easy-To-Integrate Solution That Enables High-Performing Video Call Services In Your Pre-Built Or Existing Apps.