The global COVID-19 pandemic completely revolutionized the communication sector. Earlier when live video calls were used for a gala talk, it has now become increasingly popular for business meetings and professional talks.
What does a Video Calling API mean?
An API, acronymed as Application Programming Interface is an intermediary that allows two software to communicate and exchange data seamlessly. They come of great help to developers, allowing them to easily build notch functionality apps without having to spend a fortune on creating an app from the very scratch.
And, with a video calling API, programmers can build custom live video and audio chat experiences on any mobile device or web app. Usually, all video calling APIs and SDKs come following WebRTC technology for quality data streaming.
What are the must-have Video Calling API features?
Before you think about developing a video chat app, you must consider how to integrate it easily and what components to include in your app. While doing this, check closely for the following features:
Single and Group Chats: Create an engaging platform for users to indulge in single and group chats using the conferencing feature.
Content Sharing: Allows users to share content and screen during a call.
Reduced Lags, Jitters, and Noise: Improves video calling app's quality.
Call Recording: Records and stores content for future usage.
Top 10 APIs & SDKs for Video Calling
The number of in-app video calling SDKs and APIs available go limitless, but post detailed analysis, we have curated the best 10 reliable, user-friendly, and featuristic APIs in town. Please, no hard feelings about the order described.
1. Agora – Drive User Engagement With Video Calling APIs
Agora is the sole video-calling API provider with features like AR facial masks and sound effects. Their in-house algorithms or codes offer streaming quality from 96p to 1080p with lesser bandwidth for better visualization. Further, to alleviate stutters, lags, or jitters during a video call, Agora's SDK applies adaptive video resolution technology on the user's network condition.
Notable Features
Sound Effects
AR Facial Masks
Whiteboards, Screen Sharing
HD Quality Video Streaming
Custom Masks
Visual Filters
Supplemental Enhancement Information (SEI)
Agora's Pricing
Agora's video API pricing is a little unique from the rest as they offer pricing plans based on the number of participants in a video chat app, the quality of the video for streaming, and the duration they are used for.
2. Getstream – The Best Video Chat API Provider
A leader among video calling applications, Getstream's video chat APIs and SDKs allow users to experience video chats like the best. Unlike other providers in the niche, they have partnered with Dolby.io, a division of Dolby Labs. This amalgamation has made integration of video features like 3D Immersive Calls, Video Calling, Content Sharing, Broadcasting, and Recording possible.
Notable Features
1-to-1 Video Chats and Group Calls
Live Broadcasting
File Sharing
Call Recording
Video Conferencing
Screen Sharing
Security Mechanisms
GDPR and HIPAA Compliance
Getstream's Pricing
Getstream pricing plans differ with the size of the business and the features they rely on. For more information, contact their sales team.
3. Sinch – Their Video Chat APIs Create Experiences
Sinch helps app or web developers build a richer video chat experience for end users with ideal customizable video chat APIs. Their iOS, Android, and Web-based Javascript in-house video calling SDKs give the utmost streaming quality with flexible deployment. With these, unmatched security, top-notch performance, and die-hard traits are a few, Sinch gets noted for.
Notable Features
Hybrid Platform Support
Enterprise-grade Reliability
Custom Video Filters and Masks
Live Broadcasting
Lowest Video Latency
Sinch's Pricing
Sinch supports different pricing plans but does not feature its video API pricing online. To know more about their pricing, you need to contact their sales team.
4. Twilio – Makes App Conversational With Video SDKs
What makes Twilio unique amongst the total lot is its virtual video background and custom layout features that their video calling APIs and SDKs offer. Yet another important aspect of them is their quality control tools like Network Quality API to monitor network performance and bandwidth across participants in a video chat app.
Notable Features
Quick and Easy Integrations
API and SDK Tutorials and Documentation
Highly Scalable and Reliable
GDPR and HIPAA Compliance
Animations and Virtual Background Images
Breakout Conference Rooms
Twilio's Pricing
Twilio holds a free pricing plan for mobile and web apps that constitutes only a 1-to-1 video conferencing feature. However, there is a price tag for the rest. Also, if your app needs to support more than two participants in a video chat, then the pricing varies with per participant per minute.
5. EnableX – A Trusted Video Chat SDK Provider To-Date
Enablex.io has come forth with a perfect video chat API and SDK for app developers giving them everything to build a video chat app like never before. From ideally curated KB tutorials to features like none, Enablex has indeed enabled a higher version of the video chat experience. Their codes acting as building blocks are highly scalable as per the business needs and are unique!
Notable Features
UI Kits that are customizable with tangible layouts.
Allows up to 2000 participants in a video conference call.
Enhanced security standards like E2E and AES-512 mechanisms.
Screen and File Sharing options
Enablex.io's Pricing
Their pricing is determined by the number of participants in a video call app and the number of minutes a call lasts.
6. Vonage – Build The Best Video Chat Apps
Vonage is a new kid on the block whose feature-rich video chat APIs gives developers an easy method to build custom video experience on platforms like Android, iOS, and the Web. Built on the WebRTC standards, their data streaming quality is not limited by any network issues.
Notable Features
Encrypted Video Recordings
Embedding Video Chats
GDPR and HIPAA Compliance
SIP Interconnect
Integration is less than 4 minutes
Video Stream Customization
HLS and RTMP Streaming
Video Analytics
Vonage's Pricing
Vonage prices its users starting from $9.99 per month with exceptions on bandwidth limitations. Their pricing plans range with the number of participants in a live video session.
7. Apphitect – In-app Communications Made Easy
Apphitect is a global leader in video chats and conference calls catering their services to enterprises of varied sizes; from SMBs to full-fledged large enterprise solutions. Their video calling APIs and SDKs are 100% customizable and honed with rich features that every business would be in search of.
Notable Features
Highly Scalable
Supports up to 100 interactive video call participants.
Low Latency
Group Calls, Conference Chats
Flexible Deployment
High Video Streaming Quality
Load Balancing
Apphitect's Pricing
You must contact the Apphitect's sales team as their video calling API pricing is not listed on their web page.
8. CometChat – A Leading Video Chat API Provider
Cometchat's APIs and SDKs make video call integration a hit with its rich in-depth documentation, demos, and easy-to-understand codes. Also, they come compatible across hybrid platforms for iOS, Web, and Android. Be it to add any functionality, like 1-to-1 video calls, group video chats, or any live video features, Cometchat does it with a breeze.
Notable Features:
1-to-1 Video Chat and Group Chats
Video Conferencing Functionality
Typing and Presence Indicators
Chat Widgets like Drag and Drop
White-labeled Message Translation
Automated Moderation Tools
Cometchat's Pricing
Cometchat's pricing comes flexible with plans built to scale as per the needs of the business. Their plans start from as minimal $149 per month to $749 per month.
9. Videosdk.live – A Multi-featuristic Video Chat API
If you need a video call integration facility that does its job in less than 10 minutes, then look no further than Video SDK. It makes video calling efficient for both users and developers by helping them explore vast SDK functionalities from their depot. Also, their codes are written supporting platforms like JavaScript, React JS, React Native, Android, Flutter, and iOS.
Notable Features
Pre-built SDK that supports 5000 participants in a group video call.
Integration in 10 minutes
Whiteboards, Polls, Q&A
Channels and Threads
UI Kits and Scalable parallel rooms
Video Recording
Unlimited attendee support in a group call
Videosdk's Pricing
Video SDK pricing is determined by the number of participants in an active video call app and the streaming quality one wishes to include in the app.
10. QuickBlox – A Leader in White-label Solutions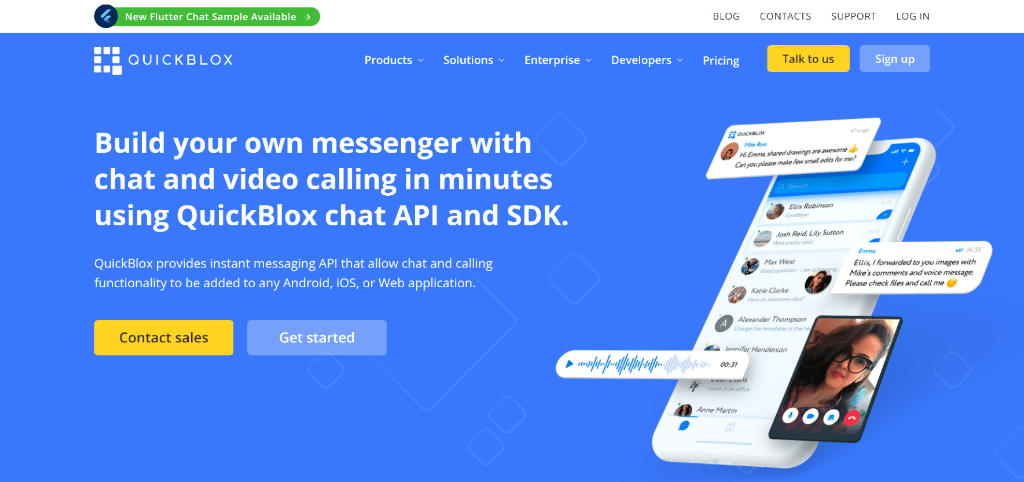 The counterpart of Getstream, Quickblox holds in its repository a bunch of features like muting audio, disabling video, and more that helps peers in every step of their talk. It has evolved to be a leading video chat provider in recent years with security uncompromised and APIs built on top of WebRTC.
Notable Features
1-to-1 Video and Group Chats
Disable Video
Mute Audio
Switch Camera
Share Screen & Configure Media Settings
Quickblox's Pricing
Quickblox pricing starts with a basic free plan to plans that range till $399 per month. For advanced features, it is required you opt for higher plans.
Now, that we saw the different API providers in town, let us focus on yet another aspect:
Factors to Consider when choosing API Providers
Here is a list of factors to consider when evaluating a video calling API.
Self-hosted and SaaS Deployment
Deployment options happen to be a major factor in determining the best API provider. Some vendors offer cloud-based options, whereas quite a few promise on-premise deployment when your traffic increases. Both the options are good but choose as per your business needs.
Quick integration in minutes and easy setup without having to jot down many requirements are a few parameters to be mostly seen while choosing a video calling API provider.
Scalability is yet another imperative factor. And, the video chat API should also be able to scale across platforms as the transaction volume pitches up. With these, the API infrastructure should also maintain flexibility to changing business needs.
Whenever it comes to security, there are a lot of things to consider, starting right from security standards like AES or E2E to compliances with SSO capabilities. Additionally, businesses in Europe must comply with GDPR & HIPAA act to avoid any type of data breach. So, ensure that your video chat API has a hold on all of these.
Cross-platform Compatibility
It has become a necessity for users to engage in video chats across platforms. So, businesses are in search of video chat APIs that are compatible with hybrid platforms (Android, iOS, and Web) at the same time.
Integrate the Right Video Chat API within your Video App Now
We just saw the top ten video chat APIs beeping their benefits in the town. And so, there might be a possibility that an API of the list could suit your business needs. But, let us remind you that the internet is an ocean, you get to find complete repositories on them there.
Be it whichever API you choose, ensure that it holds the benefits and features discussed above for your video chat app. Also, pricing matters, so have a look at the API's pricing page. Finally, Happy Implementing & Happy Rejoicing!
You can also try out our platform and test all of our in-app chat features risk-free for 21 days. No sign-up fees or credit cards are required.