HTML5 video players significantly play an important role in the world of streaming architecture and contribute its share towards the enrichment of content distribution across platforms or devices. Initially, HTML5 players got introduced to the market in 2014, but it didn't take long time for the world to adopt to the superior technologies as compared to other options available in the market.
These online video players are highly compatible and flexible and so they easily assist broadcasters, publishers or content distributors to reach a larger set of demographics with their compiled streams. However, if you require much more control over your video assets in terms of how they are displayed and how users interact with your content, then you might need a privately-owned custom video player.
Nowadays HTML5 video players aren't used only on web anymore, but tend to deliver high-quality broadcasts across major device platforms such mobile, tablet, smart TV, etc. With the rapid growth of live streaming & OTT industry, many publishers, over-the-top service providers rely on advanced player technology to distribute their content across regions to engage and connect with their viewers quickly in no time.
But, before we do that, let's take a closer look at what an HTML5 video player does..
What Is An HTML5 Video Player?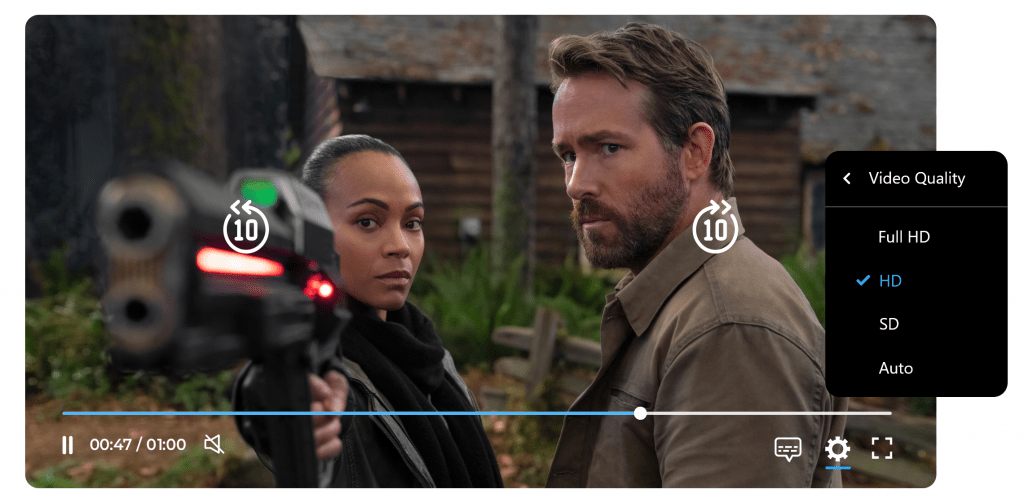 HTML5 video player is a digital technology that is built on JavaScript allowing broadcasters to share video content with their target audience over the internet. They can seamlessly embed videos directly into a website by just copy-pasting a player embed code. Also some of the various player attributes can be mentioned such as width & its height to make it responsive across browsers.
The streaming technology of HTML5 player was created as a more widely compatible alternative upnext to Adobe's Flash player. Moreover, the video player allows you to play content directly in a web browser without any need of additional plugins. It provides an easy way to integrate native video onto the website.
All you need to do is to set the height & width to determine the size of video and control attributes to add key functionalities like play & pause, What's more, the video can be automatically set to be played.
Mostly in today's modern browsers they can readily support HTML5, so viewers can now enjoy online videos without any interruptions on desktop, mobile devices with absolute comfortability.
Let's delve into some of its..
Want To Start a Streaming Business With Best HTML5 Video Player?
Top Benefits Of Streaming With An HTML5 Video Player
1. All Time Fits For Compatibility
Most of the sophisticated browsers are supported by HTML5 web player that stream videos and are compatible with any device such as mobile screens, TV, etc. This video player's compatibility alone makes it very valuable.
2. Get Complete Freedom To Customize
Nearly everything is configurable when using renowned over-the-top providers to cater to custom needs. Receive immediate assistance from a group of platform developers who have pre-installed features and themes for your proprietary media players that can be customised.
3. Best Means Of Affordability
It should go without saying that open-source HTML5 video players are more expensive. However, examining their free-to-use source code has a significant advantage that cannot be overlooked. Using an OTT solution with many integrations can be a long-term consideration.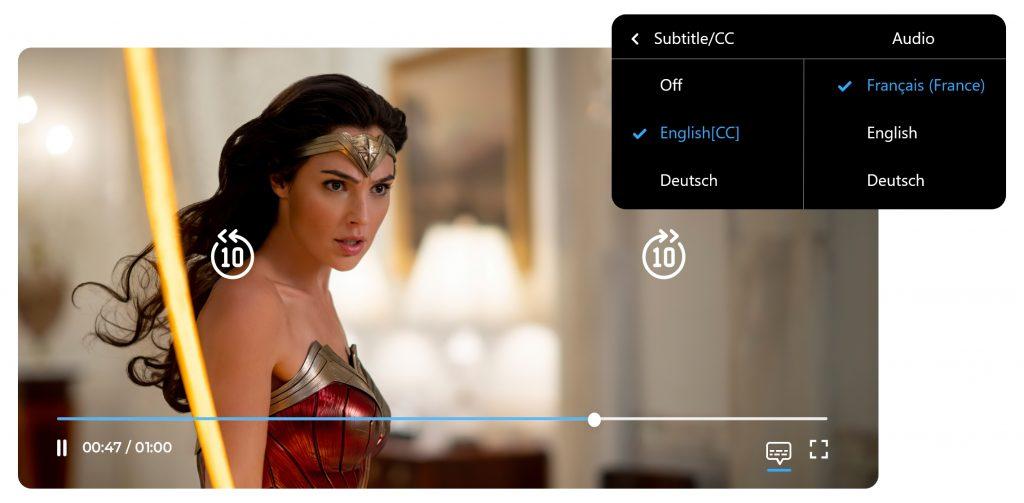 4. Less Resources Are Needed
One of the best benefits of a HTML5 stream player is its requirement is with minimum resources. Unlike flash player, HTML5 does not require any additional plug-ins and thus it is simpler in terms of its functionalities which requires light-weight essentials.
5. Opportunity To Easily Integrate
They enable developers or anyone who requires to share videos on any platform to easily integrate it. Mostly, the video monetization platforms require the need to share content on different websites & a media player online lets you easily integrate videos with built-in video tags.
How To Choose the Best HTML5 Video Player For Your Streaming Platform?
There is no standard procedure for selecting a custom HTML5 video player. Most of the time, your streaming platform or video streaming server already has it built in. However, you must have a fundamental understanding of what to consider while choosing one. You should seek for the following aspects in the same.
Multiple Video Source Specifications
Browsers must be able to play your video source files in order to share your videos across various websites and video streaming platforms. However, it's unlikely that every browser will accept the same video codec or source file, so the HTML5 video player needs to handle a variety of video source requirements for seamless browser compatibility.
Flexible Video Control
This guarantees that you can quickly display or conceal different video controls on different browsers which includes volume, download, play, pause, full screen mode, and others. For certain browsers, you can opt to conceal or disable features like "download" and "full screen," amongst others.
Tailor-made Accessories of Videos
By adjusting various video aspects, such as resizing a video and maintaining the aspect ratio and video size, makes content compatible with a variety of platforms. Viewers will therefore be able to access high-quality videos on any platform.
Added Functionalities
A solid HTML5 player not only fulfils the very minimum requirements but also offers additional features to provide your audience with a top-notch streaming experience. Captions and subtitles, regulating playback speed, specifying playback start and end timestamps, autoplay, mute, loop, etc. are a few of the essential solutions.
The 7 Best HTML5 Video Players For Streaming in 2023
Robust Over-the-top streaming solution with 100% customization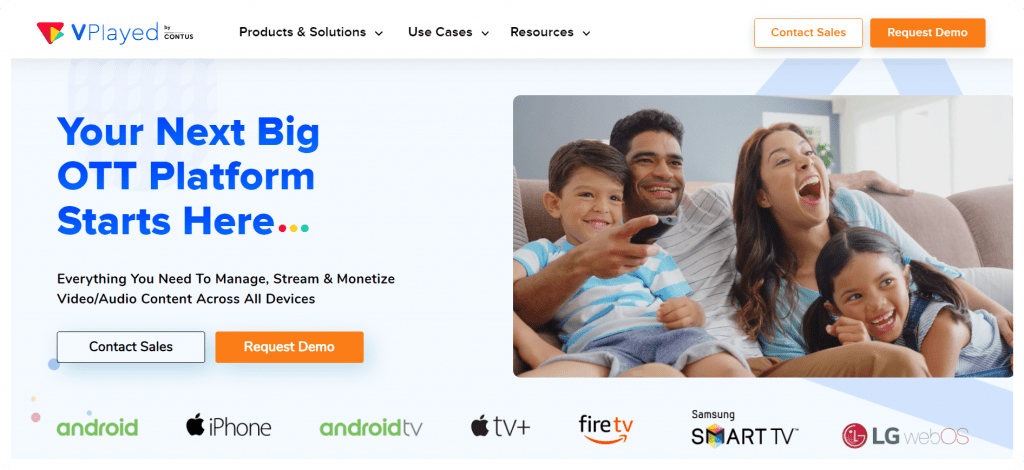 VPlayed is a one-stop streaming solution that provides unparalleled viewing experience using customized HTML5 video player. Ensure your viewers get a fastest video playback along with supported technologies like adaptive bitrate streaming across all devices. Acquire the freedom to customize your streaming platform completely at VPlayed along with 150+ streaming features.
Some Of VPlayed's HTML5 Video Players Highlighted Features Are:
Now you can stream videos in 4K added with multi-lingual support

Enjoy buffer-free content as network bandwidth is no more a worry

Store & broadcast videos in MPEG DASH, MP4 formats for flexibility

Videos can be delivered with future-oriented tech-stack like HLS

Fastest playback with simultaneous ad runs in seekbar thumbnails
Pros & Cons
Ensures platform protection with domain validation

Offers subtitle settings for varied purpose

Doesn't provide free trials before opting solutions
Premium video broadcasting solution used by dozen of brands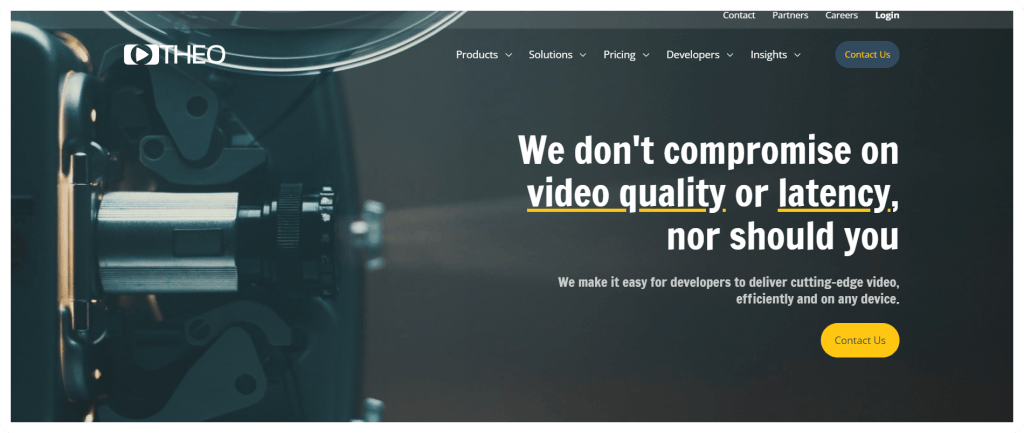 THEOplayer is well-known HTML5 video player used by dozens of brands and online video providers globally. This player is one of the first ones to be introduced in the market with supports customization of video players to stream on smart TV apps. They are mostly used for OTT streaming and by payTV service providers. THEOPlayer supports other viewing formats like HLS, MPEG-DASH, which ensures smooth playability.
Some Of Its Best Video Player's Highlighted Features Are:
Offers dozens of integrations across wide combinations of video ecosystem

Extensive SDK support with detailed documentation making it go-to solution

Enterprise video player is for media giants, large businesses worldwide

THEOPlayer is the first to introduce Apple's low-latency HLS streaming

Provides high-end customizability & reliant video delivery solution
Pros & Cons
Offers various testing tools

Provides Player API & SDK

Pricing factors aren't favourable
Unified video platform for online streaming business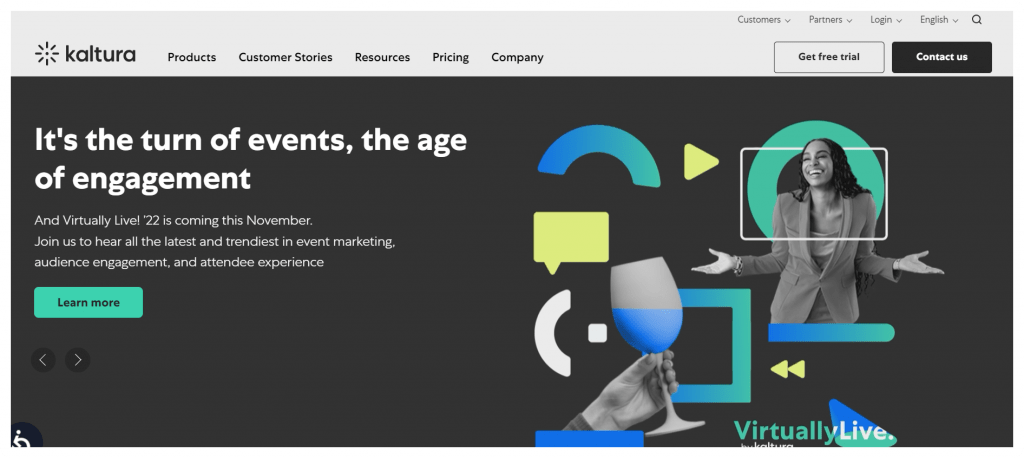 Kaltura is a renowned multi-platform which provides HLS streaming solution & specializes in live streaming and e-learning. Kaltura's video player for website comes with reliant fast cloud hosting solution, so publishers who tend to choose this platform suffices their need. The solution is backedup with plenty of third-paty plugins added with an dynamic API, allowing easy integrations with other services.
Highlighted Features Of Kaltura's Custom Video Player Are:
A ready-made elearning platform with virtual classroom

Best choice with its HTML5 player's video engagement

Multiplatfom support with unified development API

Resource loader supports powerful player metadata

Flexible player platform integrates with major ad networks
Pros & Cons
Supports varied third-party integrations

Inclusive of cloud video hosting

Lacks revenue-generating options
Video streaming platform with reliant HLS streaming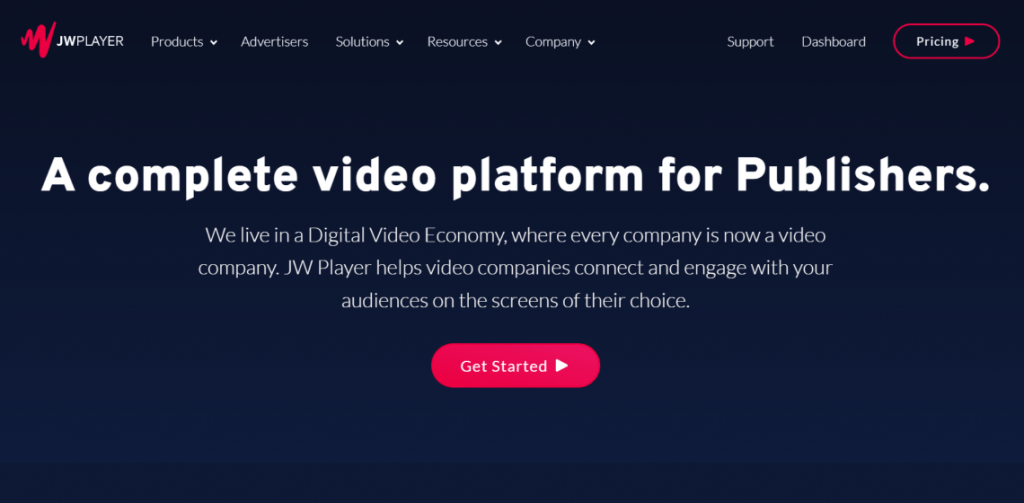 The initial source code for the first YouTube video player included JW Player. But over time, the player evolved to include HTML5 streaming, and today it is regarded as one of the most reliable video players available. JW Player, which has been available for more than 15 years, is one of the major players in the video industry. Nowadays, it provides thousands of publishers worldwide with buffer-free HLS and MPEG-DASH streaming.
Some Of Its Highlighted Features Of Online Video Players Are:
Versatile perks include extensive 360° video, VR support

Offers video CMS alongside its player for video hosting

Capacitates with handy audience engagement systems

Extensive cross-platform opportunities in Android & iOS SDKs

Delivers player bidding with content matching systems
Pros & Cons
Most well-established HTML5 players in the industry

Provides AVOD & SVOD monetization models

Direct support is only available to premium users
Performance-first video player for exclusive streams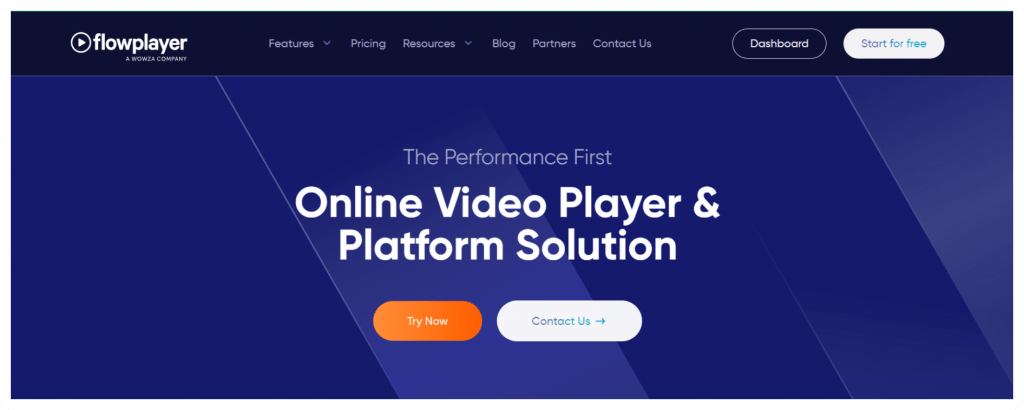 Another strong video player and online video platform counts the Flowplayer. It is performance-driven and furnishes with various streaming solutions with video file formats like HLS, MP4, MPEG-DASH, etc. The robust video player offers a variety of expert streaming options with hosting & encoding capabilities. Professional streaming works well with Flowplayer because of its speed and small size.
Highlighted Features Of HTML5 Player Video Are:
Highly customizable with third-party integrations

Provides built-in ad based monetization options

Enables broadcasters to stream with API access

Easy to use with high engagement rates concurrently

Ad-scheduling feasibility added with refined analytics
Pros & Cons
Low latency streaming

Live streaming opportunities

There's no availability of free plans
Stream lag-free with compatible whitelabel video player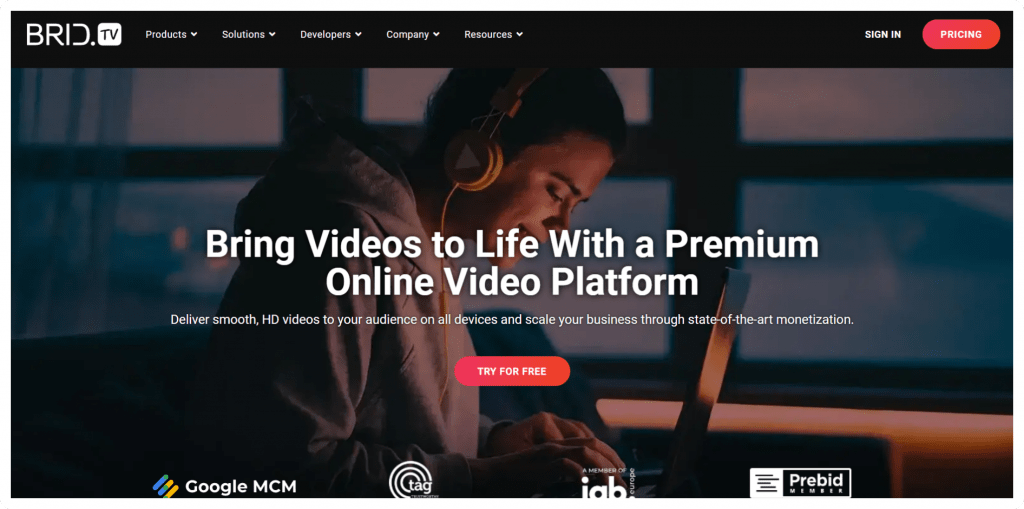 Brid.TV is a premium online video platform that provides advanced HTML5player with ad-based monetization solutions for mid to large-scale organizations. Brid.TV's lightweight video player offers adaptive HLS streaming service for live & on-demand videos. The HTML5 player from Brid.TV features a full-featured video CMS as well as real-time video analytics that are accessible to all users.
Highlighted Features Of HTML5 Media Player Includes:
Enterprise video hosting is Brid.TV's significant feature

Supports latest VAST & VPAID ad tags in setup process

In-header bidding technology for maximizing ad revenue

Get the facility to whitelabel vod platform with customized solution

Provides full API & mobile SDK support for any media streaming
Pros & Cons
Highly customizable online video player with plugin support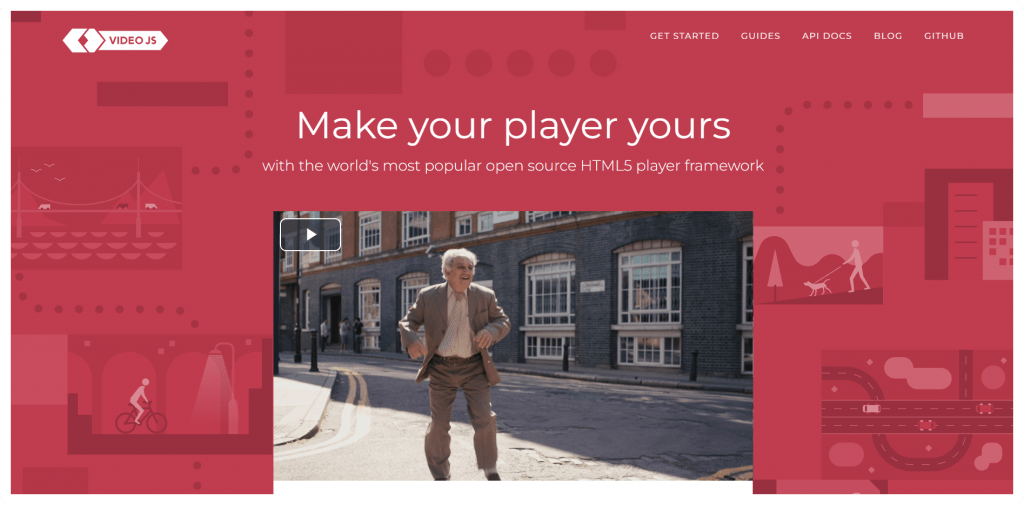 Video JS is a free and open-source online video player that provides features with basic playback options such as autoplay or pre-load. Video JS team uses JavaScript for plugging cross-browser irregularities, to ensure that your content appears in the best possible way. They also help in adding support for HTML5 tags for other technical essentialities to introduce features such as subtitles & full-screen displays.
Highlighted Features Of HTML5 Player Include
Video playback with VideoJS can be enjoyed on mobile & desktop devices

Facilitates advanced plugins that support social media platforms easily

Track video analytics right from the player & is one of standout features

Branding can be added in player controls with include chromecast support

It is an open source media player compatible with multiple 3rd-party plugins
Pros & Cons
Brilliant customization potential

Backend contains optional support for Flash browsers

Need to have basic idea about scripting so implementation becomes difficult
Conclusion:
These days, HTML5 players are the one of the greatest boon that businesses can get to drive online video distribution. With extensive customization, engagement analysis, and monetization possibilities, these video players provide dependable and fluid video transmission. Nevertheless, picking one is made more challenging by the variations in their features, capabilities, accessibility, and other aspects.
Although it may appear insignificant to understand that, the HTML5 video player is a crucial part of your video hosting solution that greatly affects the streaming's quality, speed, compatibility, sharing, adaptability, and many other aspects.
While selecting a solution, it is quintessential to pay close attention to all of its characteristics and specifics. While the aforementioned comparative study may help in your decision-making. Indeed, it is a must remember that your company has certain objectives to meet, and therefore a hosting platform with a good HTML5 player must take those into consideration pivotally.
If You Already Have An Idea To Start A Video Streaming Business With HTML5 Player, Schedule A Free Demo And We'll Get You On The Road To Video Streaming Success