What is Airbnb & What does it do?
Airbnb is an accommodation booking website. Airbnb does not own any properties. Instead it acts an online portal where anyone looking for a short-term accommodation (days, weeks or months) can go and find listings in their travel destinations.
Rather than offering professional run hotel chains and lodging facilities, Airbnb offers private properties self-owned by ordinary people who want to put their spare space to some use and earn revenue out of it. Airbnb creates a win-win situation for travelers and property owners alike.
Why is Airbnb so popular?
A typical Airbnb listed property is cheaper than a professionally run accommodation property. This has led to its massive growth since its inception in 2008. Airbnb also boasts of a robust and fail-proof online booking system that is easy to use for both travelers and property owners.
For travelers, Airbnb offers advanced search facilities to find suitable accommodation facilities in their destinations at affordable costs. Since these properties are verified and listed by Airbnb, there is also a certain amount of trust factor which makes the guests feel safer than in a usual accommodation facility.
Decoding the revenue model of Airbnb

Airbnb sources it's revenue from both guests and property owners. Hosts (i.e property owners) are charged 3% of the booking amount while travelers are charged anywhere in between 6% to 12% of the booking amount. The revenue so collected is to cover the cost of operations and also contains a good amount of profit also. It is this profit margin that has inspired many to start an online accommodation booking system of their own using a Magento Airbnb clone script.
How to make money using an Airbnb clone script?
Like we said before, starting a business with an Airbnb identical business model is becoming popular. Here are some ways to make money out of a travel booking website like Airbnb which justify why there is a gold rush for Airbnb clone based business models.
From Users
User registration charges from travelers
Transaction fee for every successful booking
Exclusive property suggestions of niche choice
From property owners
Property booking fee for every successful booking
Property listing from landlords, privately owned property owners
Property verification fee
Other sources
AdSense revenue based on website traffic
Banner advertisements
Commission from contract concierge services
All said, which is the best way to build an accommodation booking software?
Is it custom ecommerce website development from scratch or a readymade script that is market-ready and primed for launch? Read on.
Custom Ecommerce vs Readymade Script Differences
Custom website development is not for everyone. In fact, it is most suitable for those who have specific requirements that readily solutions cannot solve. Second, they are expensive. Have a look at the below mentioned table to have an idea how much it will cost to build a custom website, especially a custom ecommerce website with complete functionalities.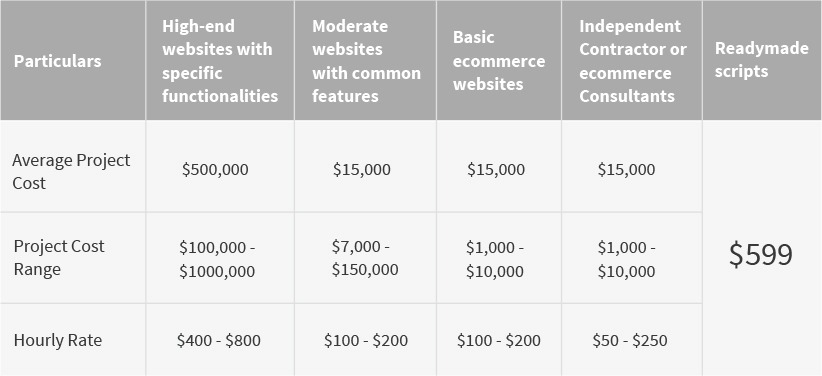 In addition to the exorbitant costs, custom ecommerce web development for an accommodation booking software can be time consuming and daunting for someone with little or no technical expertise. The typical time duration required to bring a custom made Airbnb clone website can range anywhere from 3 to 6 months if not more. Post-development there is also the quality assurance process, during which if bugs are spotted, the retraction process will further expand the final launch of the website.
Coming to readymade scripts, there are no hassles. An Airbnb clone script, or for the matter any clone script, is a pre built software which when installed will give a complete website or web application that does what it is meant to do. Unless the user needs some specific customization in addition to the default provisions provided with the readymade script, an accommodation booking script is always prepped for instant launch. In most cases, they cost under $1,000 and come in 100% customizable bug-free codes.
Everything you need to know about Airhotels – Airbnb Clone Script

An Airbnb clone script is basically an accommodation booking script that allows interested individuals to create their own website like Airbnb that mimics all the features that made the vacation rental website a global phenomenon. The Magento Airbnb clone script, Airhotels can be further optimized for performance with add-ons and extensions that are abundantly available in the market today.
The Airbnb Clone offering from Apptha titled 'Airhotels' comes with an array of promising features, including:
Instant installation

Lightweight design

Bug-free code

100% customization

Powerful & Intuitive interface

Scalable and Flexible software

Advanced Features of Airhotels Airbnb Clone Script
Features that make Airhotels a one of a kind vacation rental website script.
Home page Video slideshows
Captivate guests with video banners/galleries depicting site location, vantage points, exoticness, etc. of the property.
Advanced search
Faceted navigation based advanced search enables users to pick the right properties that suit their personal preferences.

Explicit Property Detailing
Facility to describe a property captively through video banners, image banners and snippets in slider format.

SEO-Friendly
Rank higher in search engine ranking with SEO friendly URLs that fetch customers queries for local properties.

Hourly Booking
Time independent booking system that brings maximum utility for discerning travelers and overworked hosts.

Customization
A 100% customizable code that enables admins to add, edit or delete custom attributes or to create a personalized theme.
Sales Boosting – Free Addons

Paypal adaptive

Recurring payments

One-step checkout

Social logins
Services

Free installation

1 year Amazon powered AWS cloud hosting

3 months free support

10 days money back guarantee